ANOTHER HORNSTAR INSTALL.
THIS IS MICK & HIS MONSTER INC MONSTER TRUCK!!!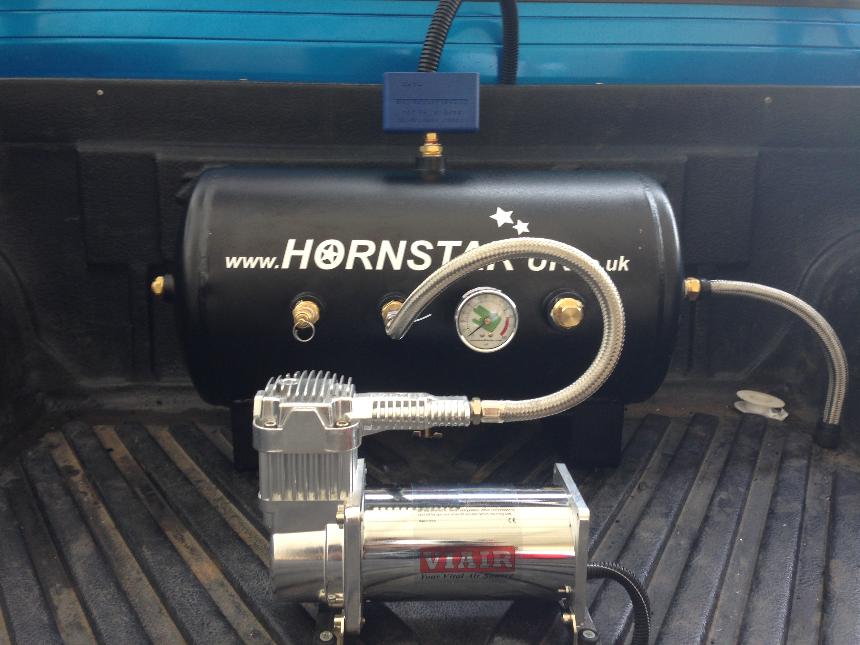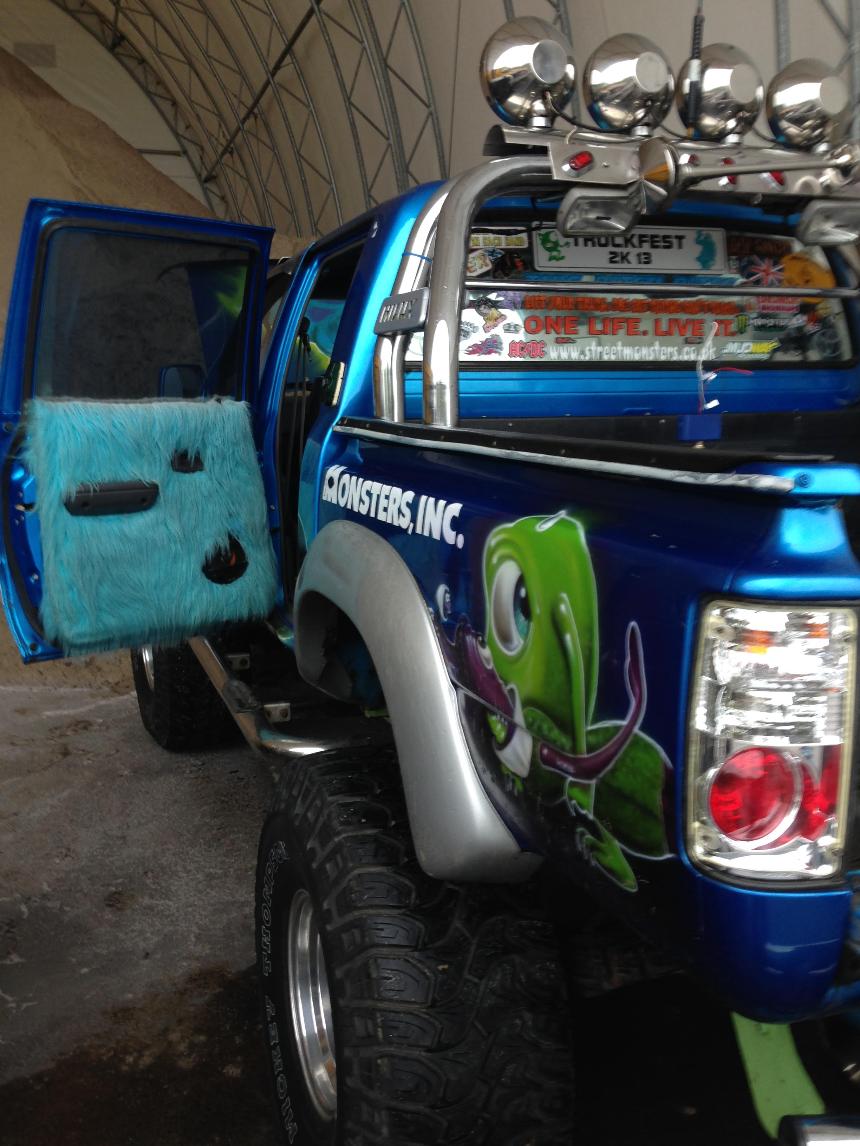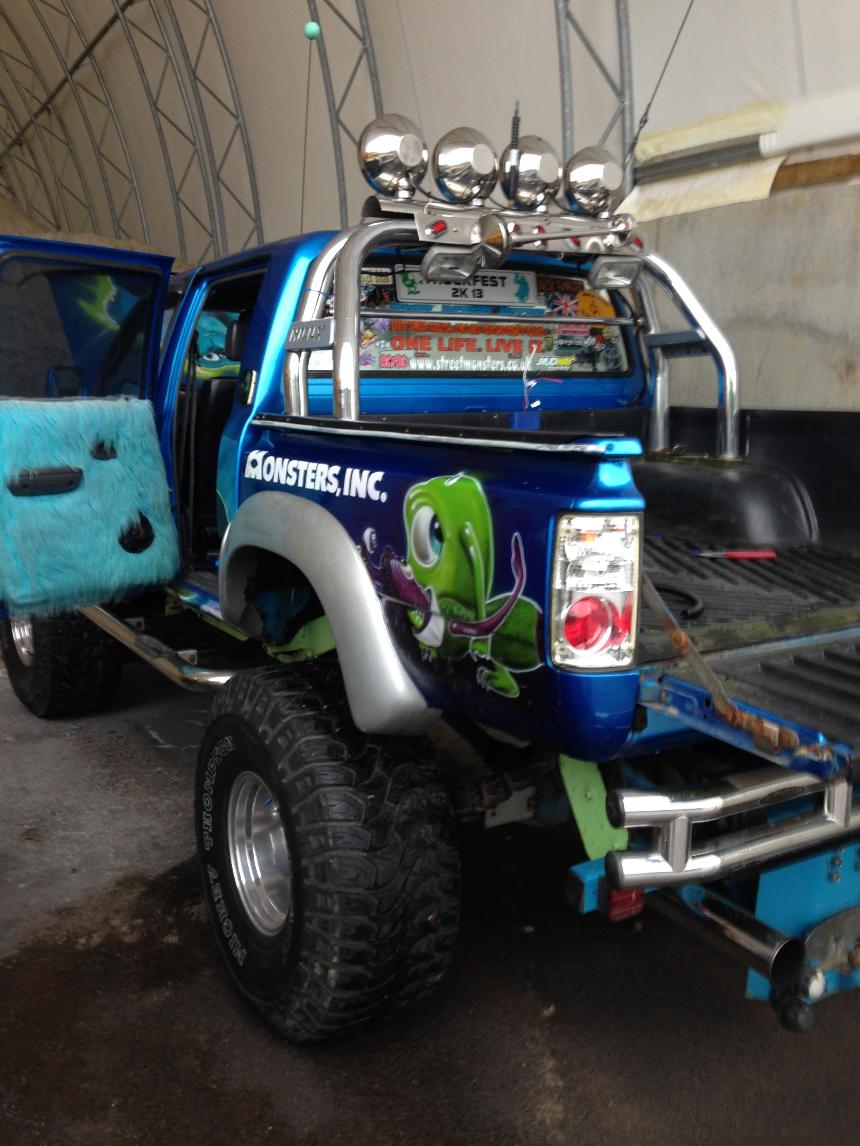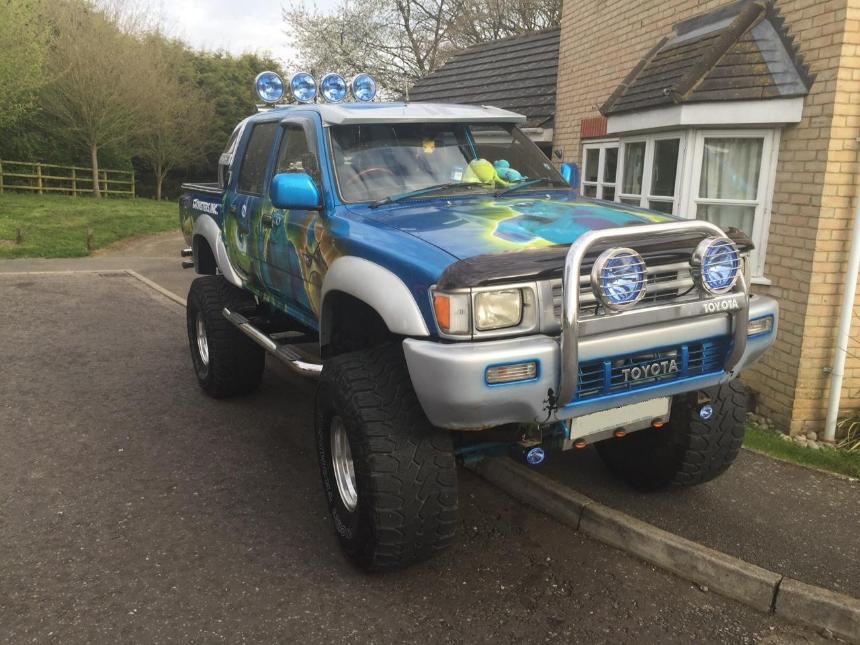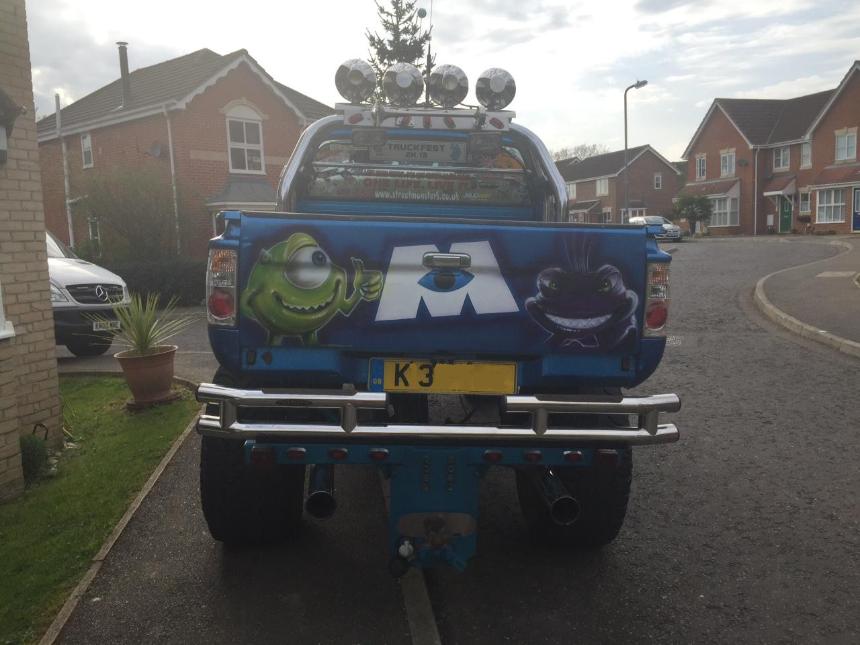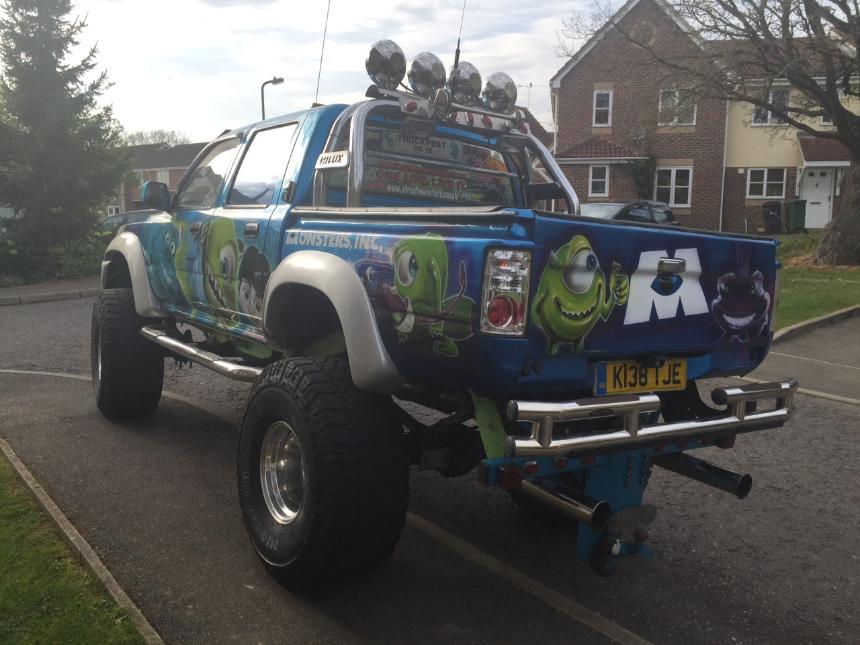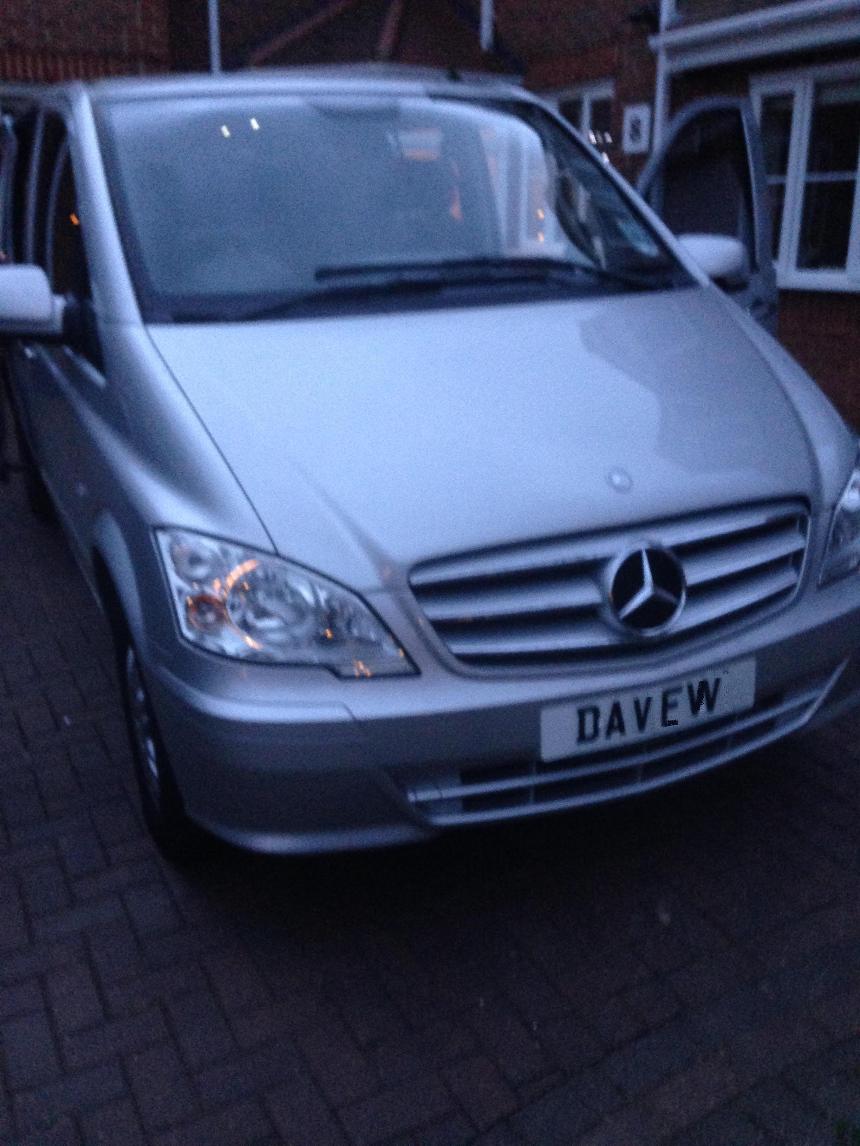 Here we have Dave's Brand new Vito van. Dave contacted me after coming across my website.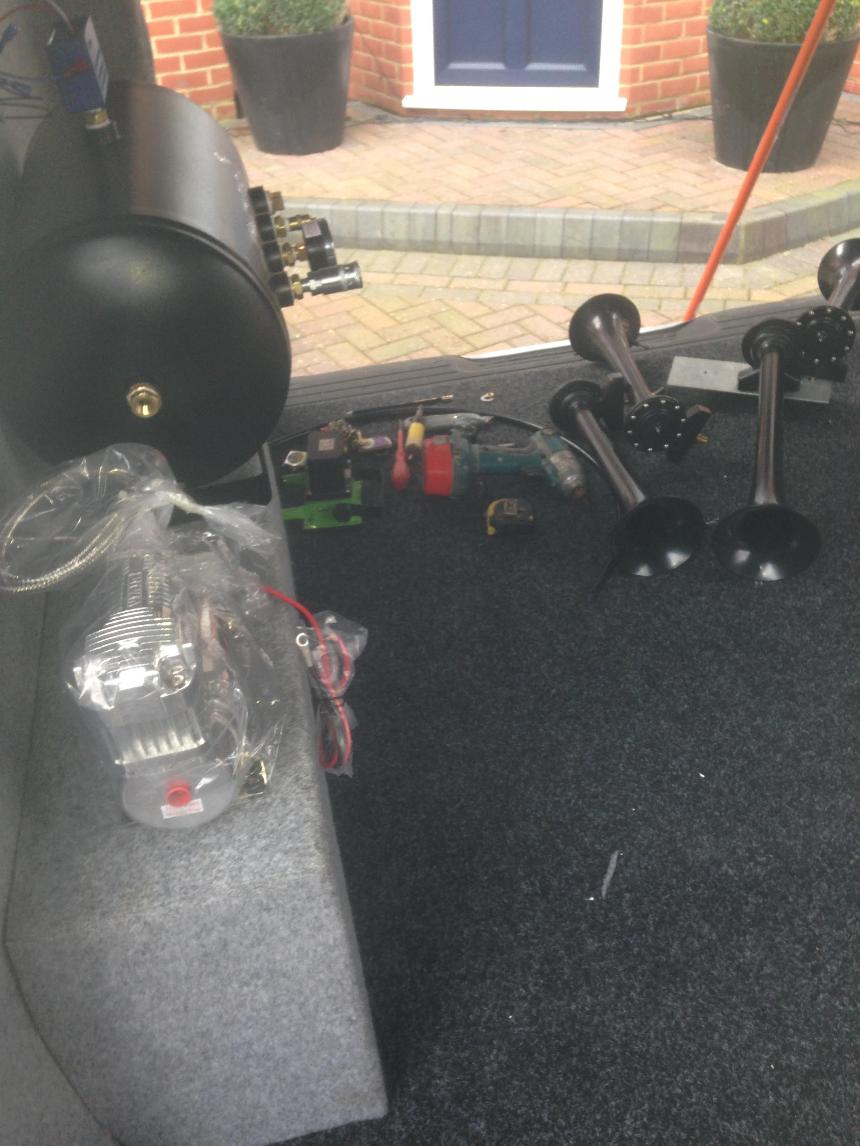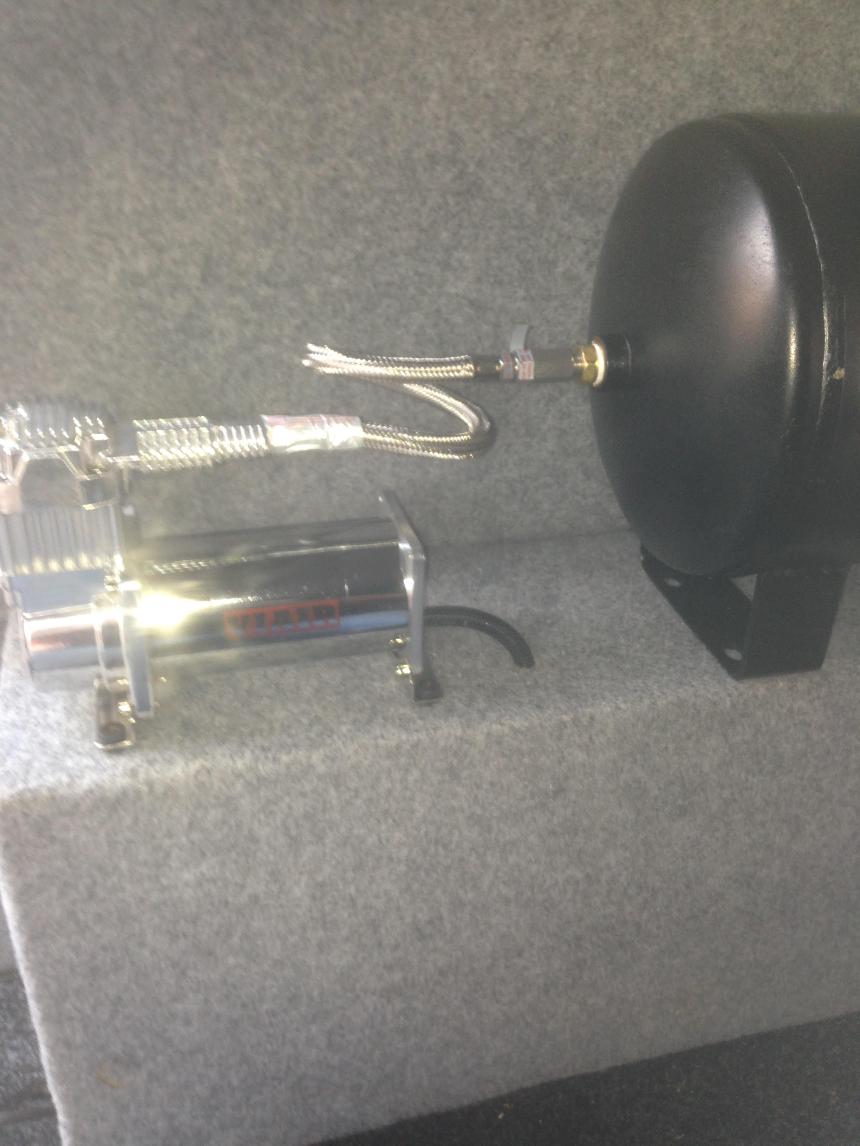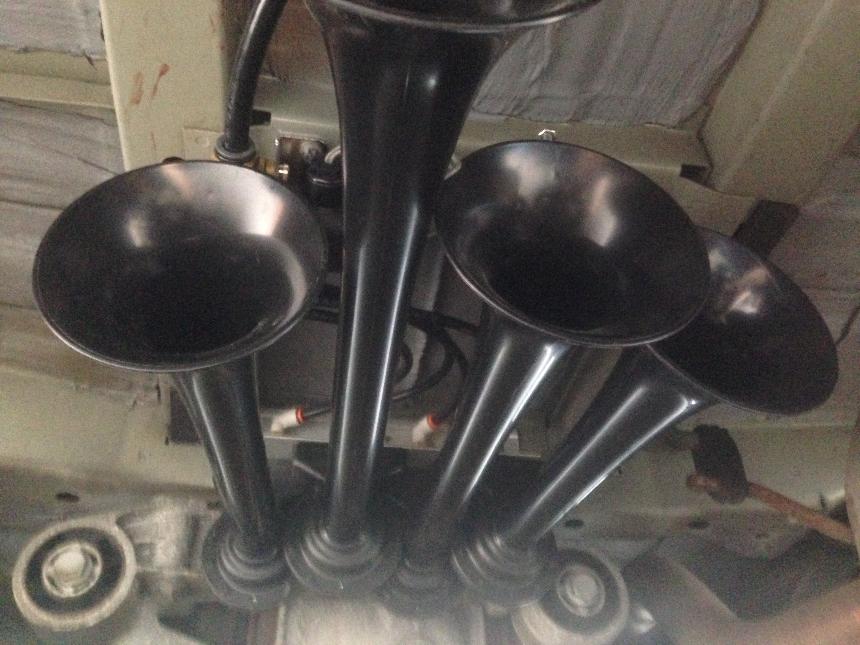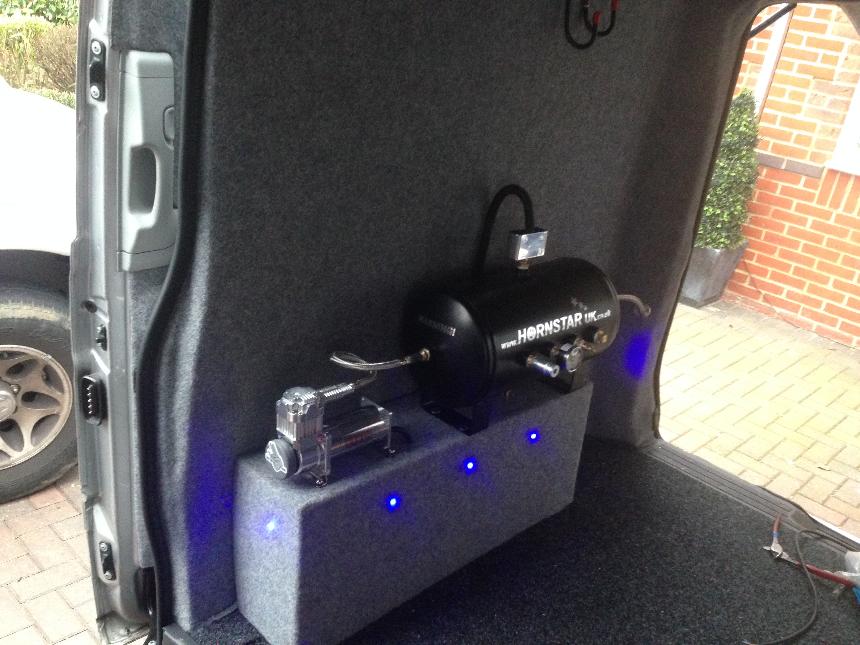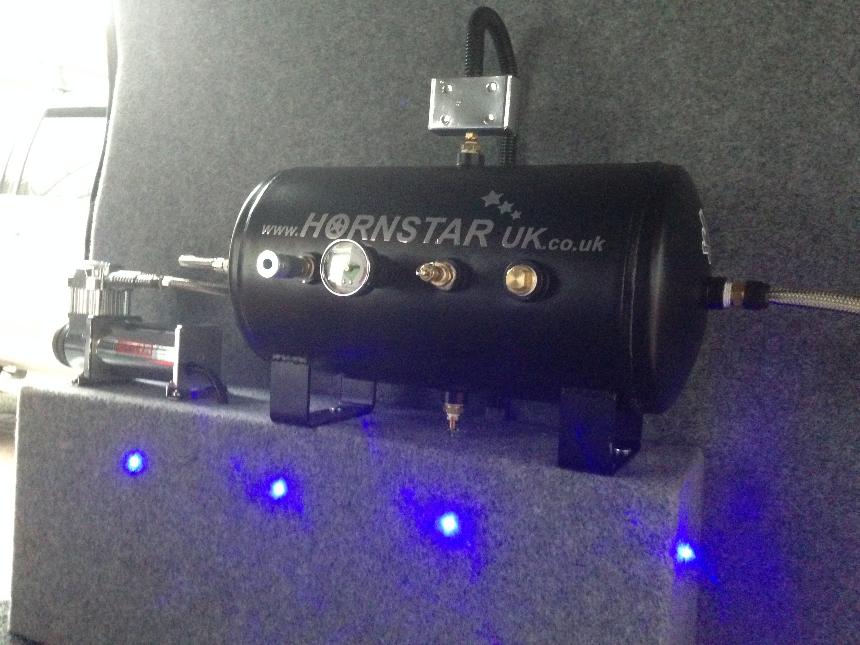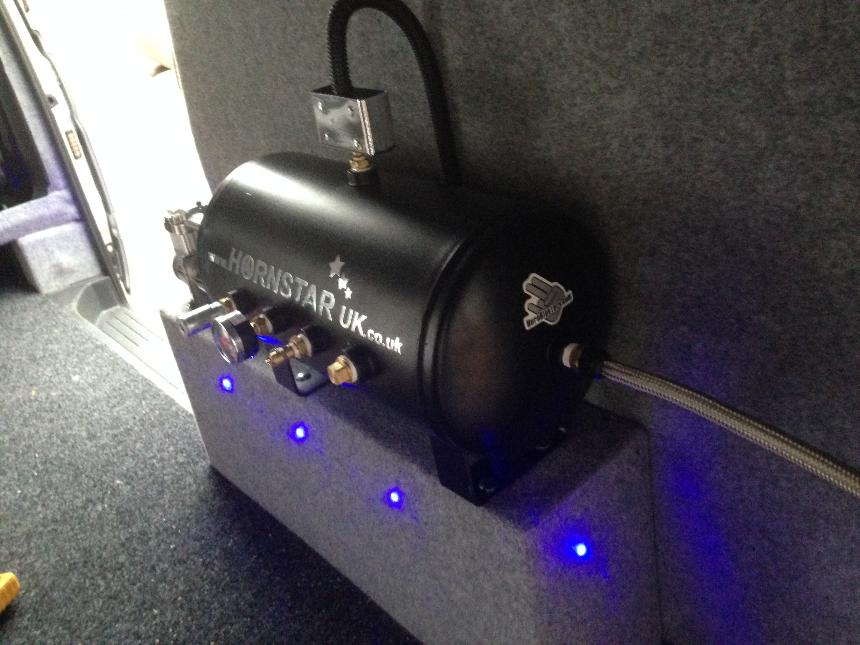 AND ANOTHER INSTALL ON ANOTHER VW VAN
Space was an issue on this install, as this is used as daily for work.and often materials were needed to be carried.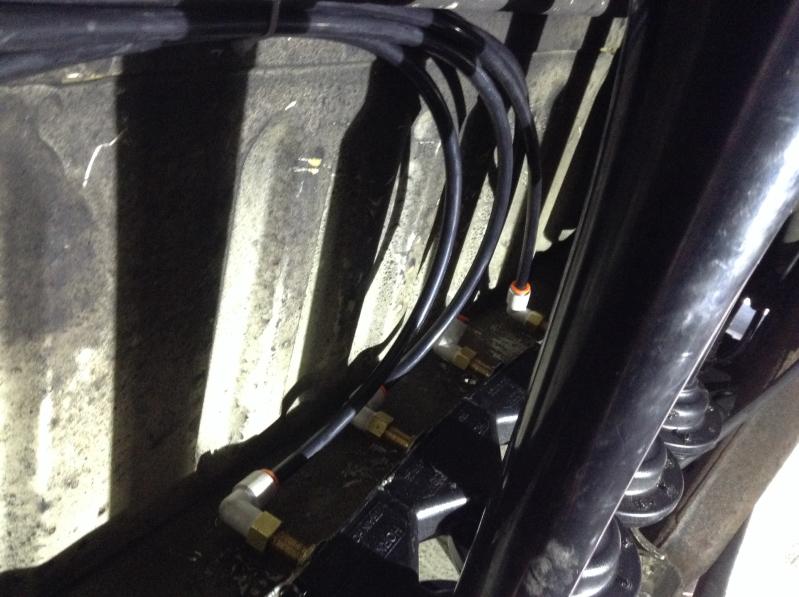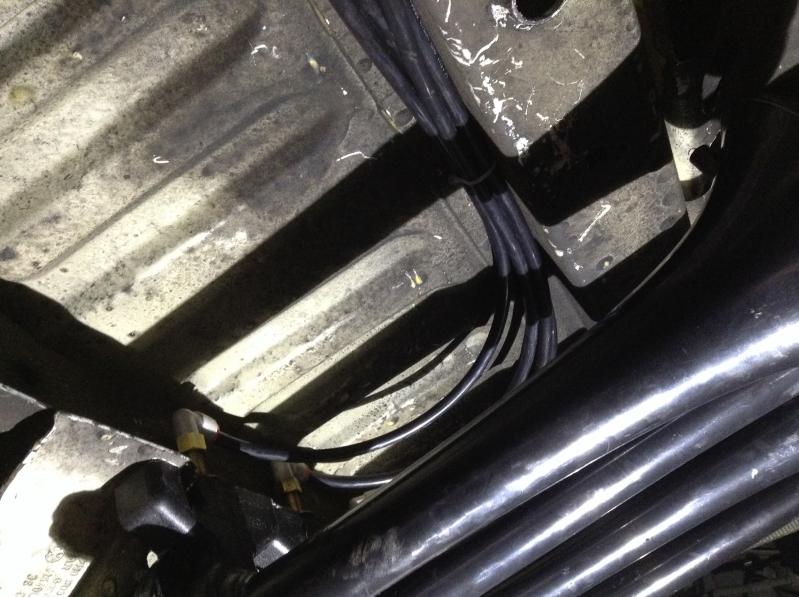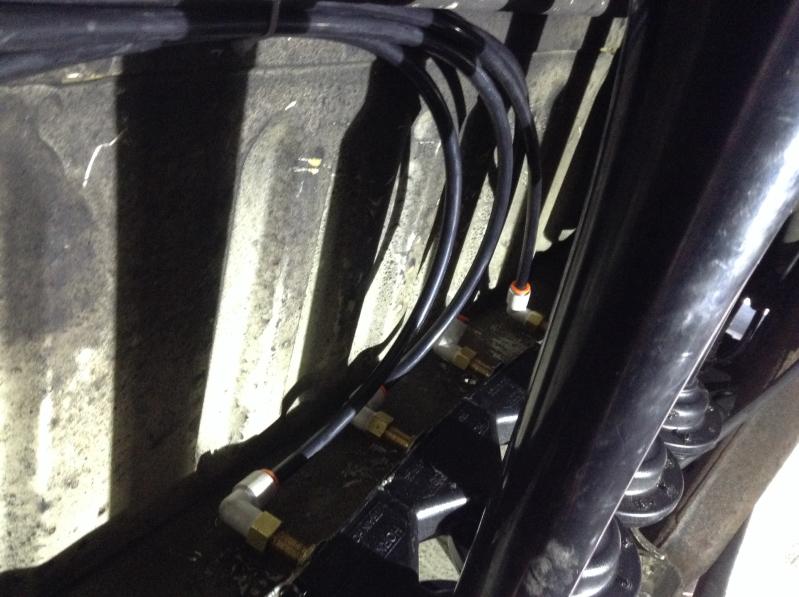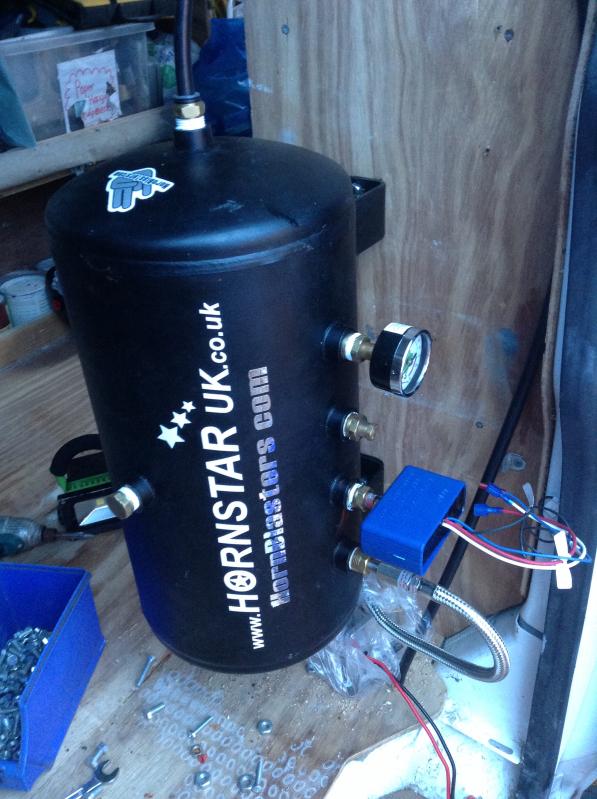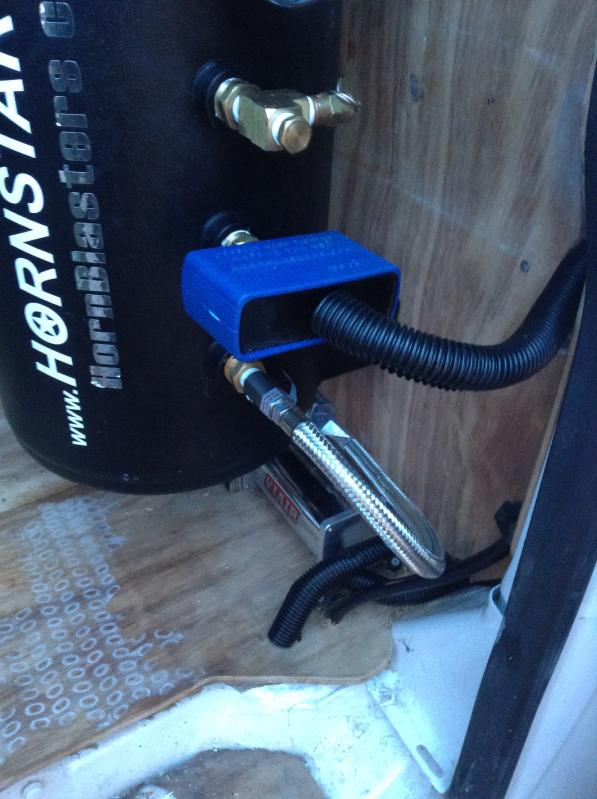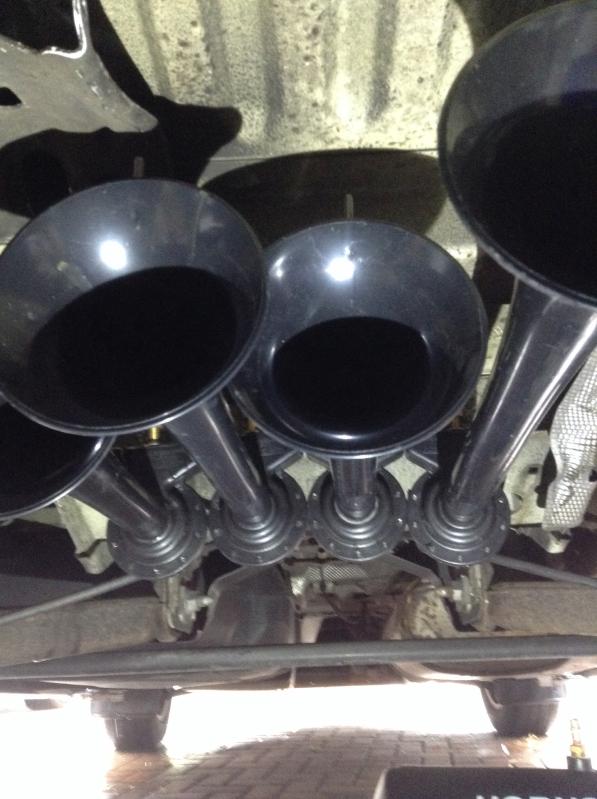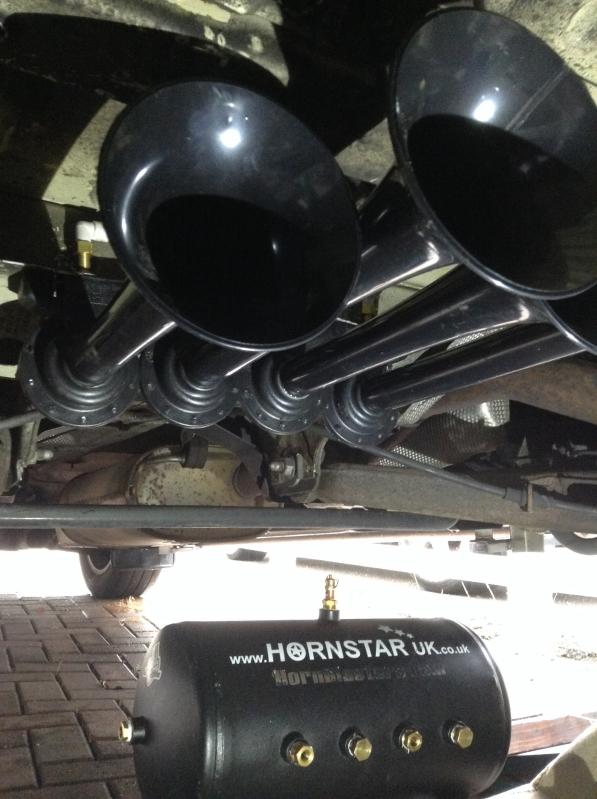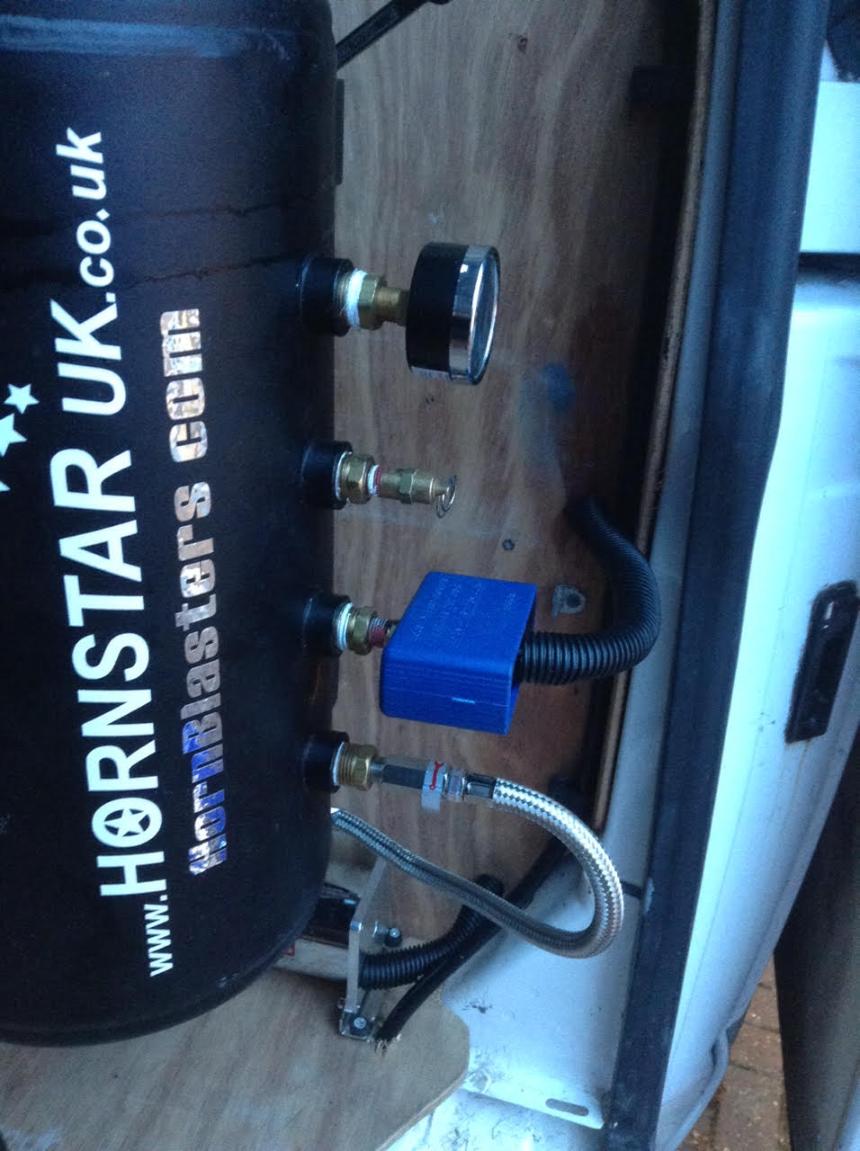 OK, SO THIS IS WAYNE FROM LONDON VW TRANSPORTER.

WAYNE IS A RETURNING HORNSTAR UK CUSTOMER & A RIGHT PROPER CHARACTER!!
HE IS FROM LONDON, (not far from me) AND RACES HIGH POWERED JET SKIS
IN HIS SPARE TIME & RUNS & OWNS A SUCCESSFUL CLADDING COMPANY, AMONGST OTHERS.

WE ORIGINALLY FITTED A HORNBLASTERS 228vx KIT, HOWEVER WAYNE FOUND HE NEEDED MORE AIR FOR HIS NEW CRAZY HORNBLASTING ADDICTION.
SO WE SET ABOUT FITTING HIM ANOTHER 2 GALLON TANK.
THE CRITERIA FOR THIS INSTALL WAS THAT NO HOLES WHATSOEVER WERE TO BE DRILLED, SO EVERYTHING, WITH THE EXCEPTION OF THE MOUNTING OF THE HORNS THEMSELVES WAS DONE WITHOUT THE AID OF A DRILL :)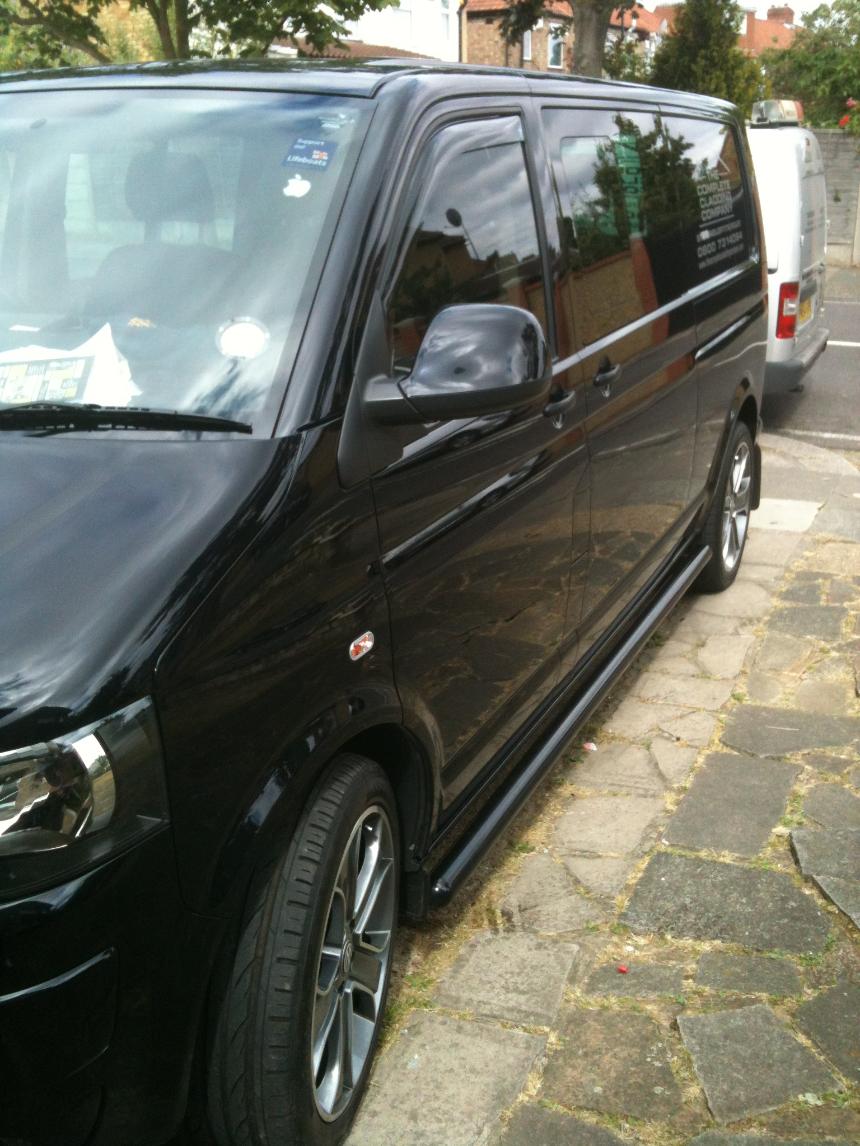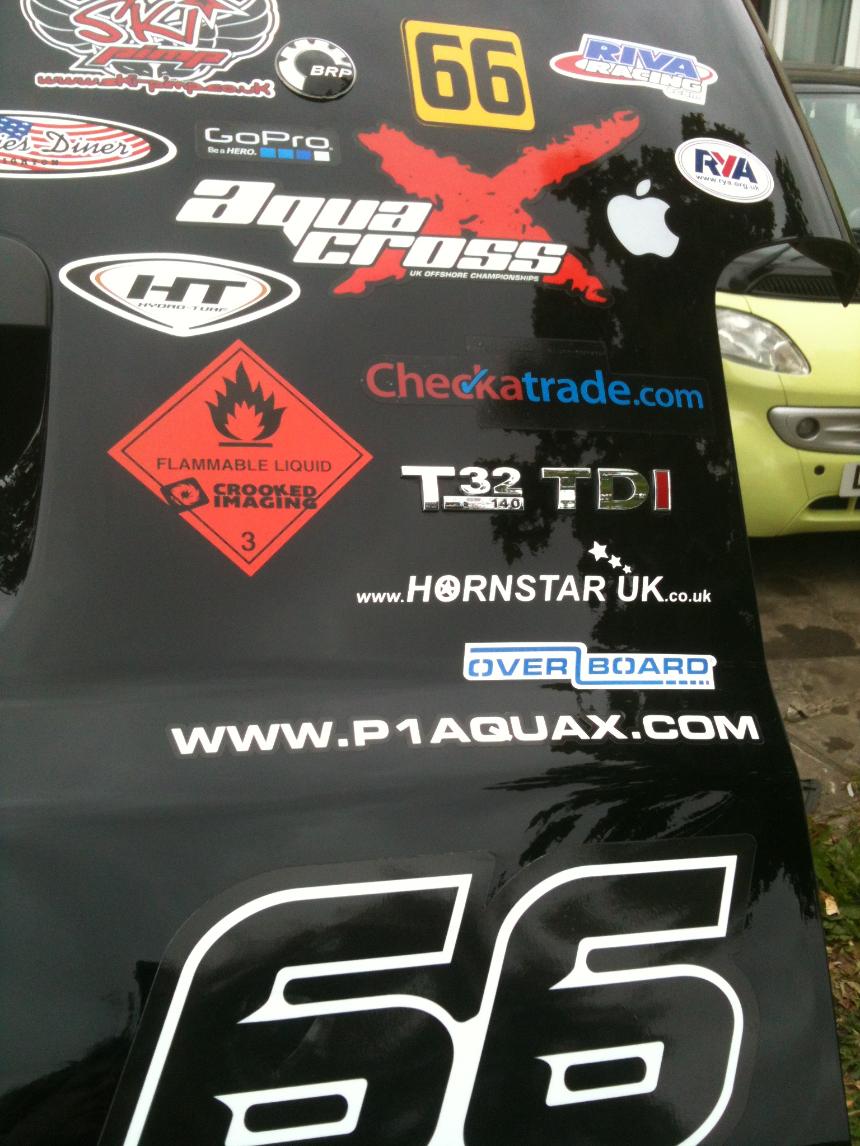 SO THE FIRST JOB WAS TO START BUILDING THE TANK UP AND WORKING OUT HOW IT WOULD ALL FIT TOGETHER.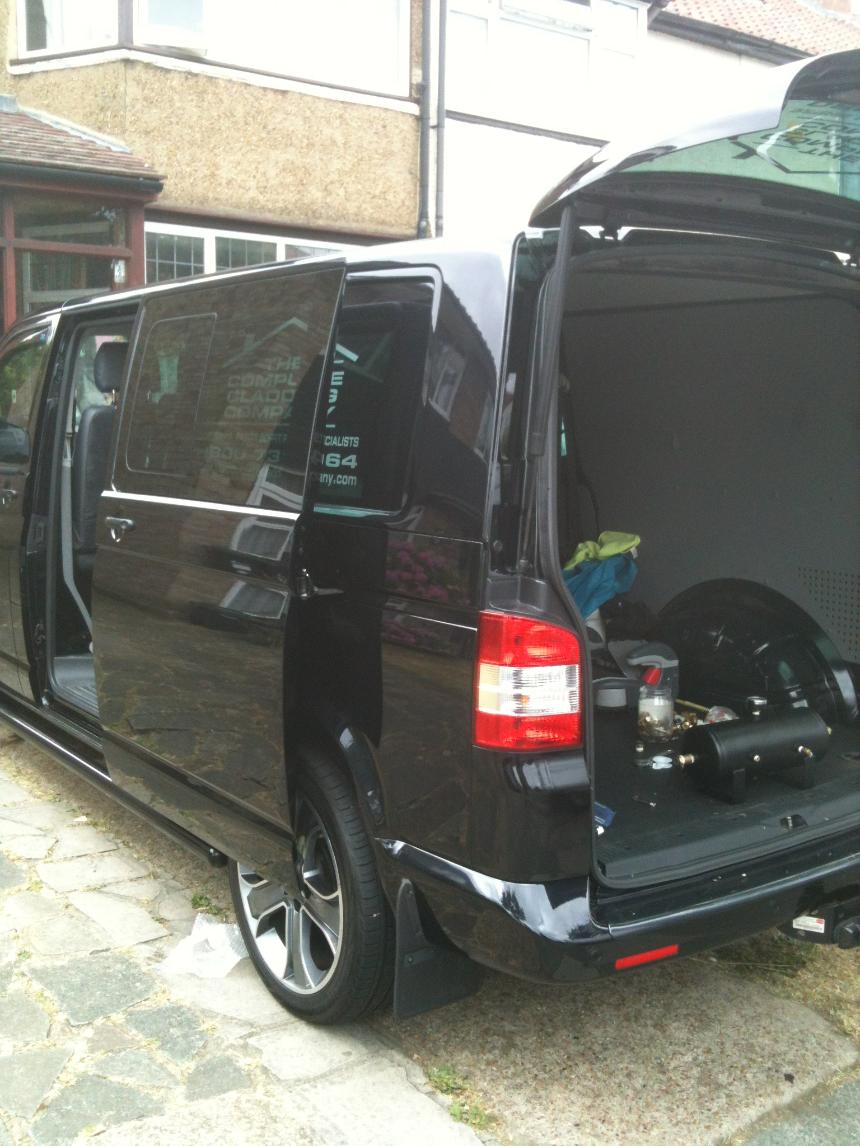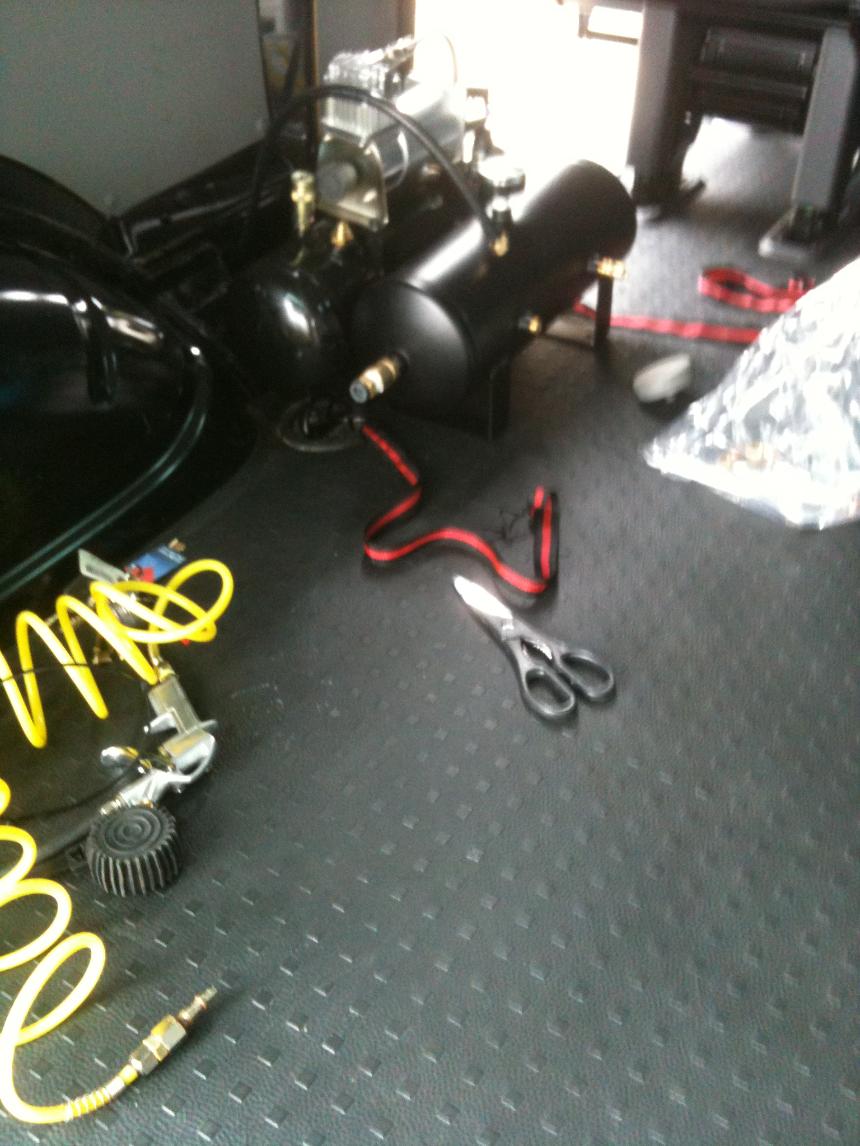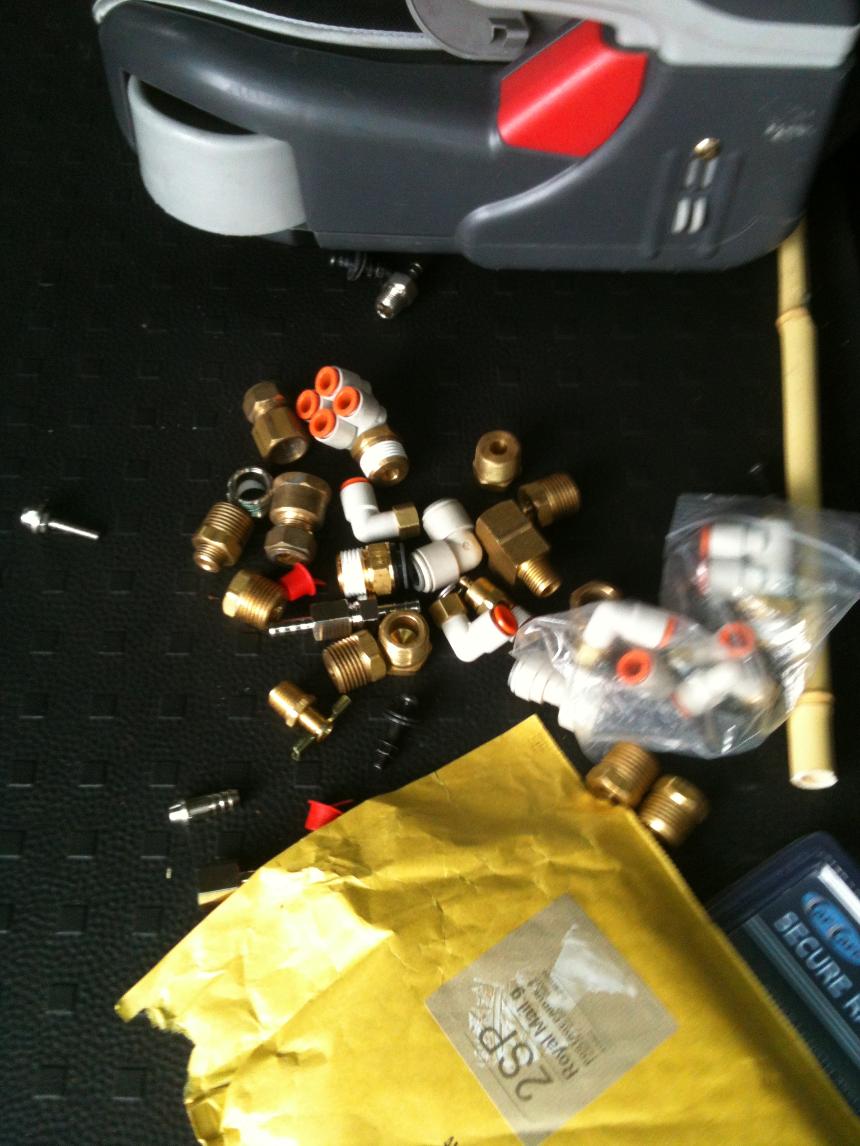 ONE OF THE FIRST PROBLEMS I HAD TO OVERCOME WAS THE THREADS ON THIS TANK WERE FOR SOME REASON METRIC & THE MAIN TWO PORTS WERE 12mm & NOT 1/2". (Wayne needed a tank quick & we found a company in Leeds RADIO WORLD, they do alot of air ride stuff)
SO A QUICK DASH DOWN TO THE PLUMBERS MERCHANTS SOON SORTED THAT PROBLEM OUT.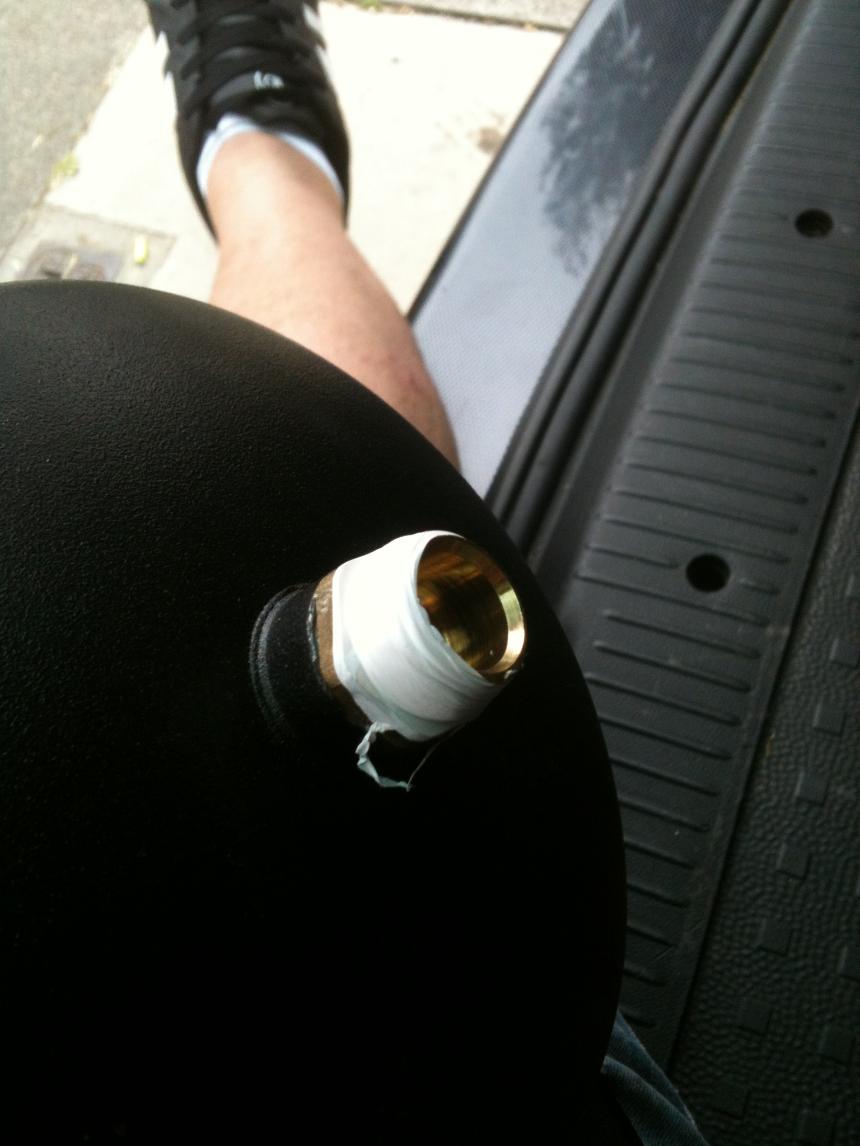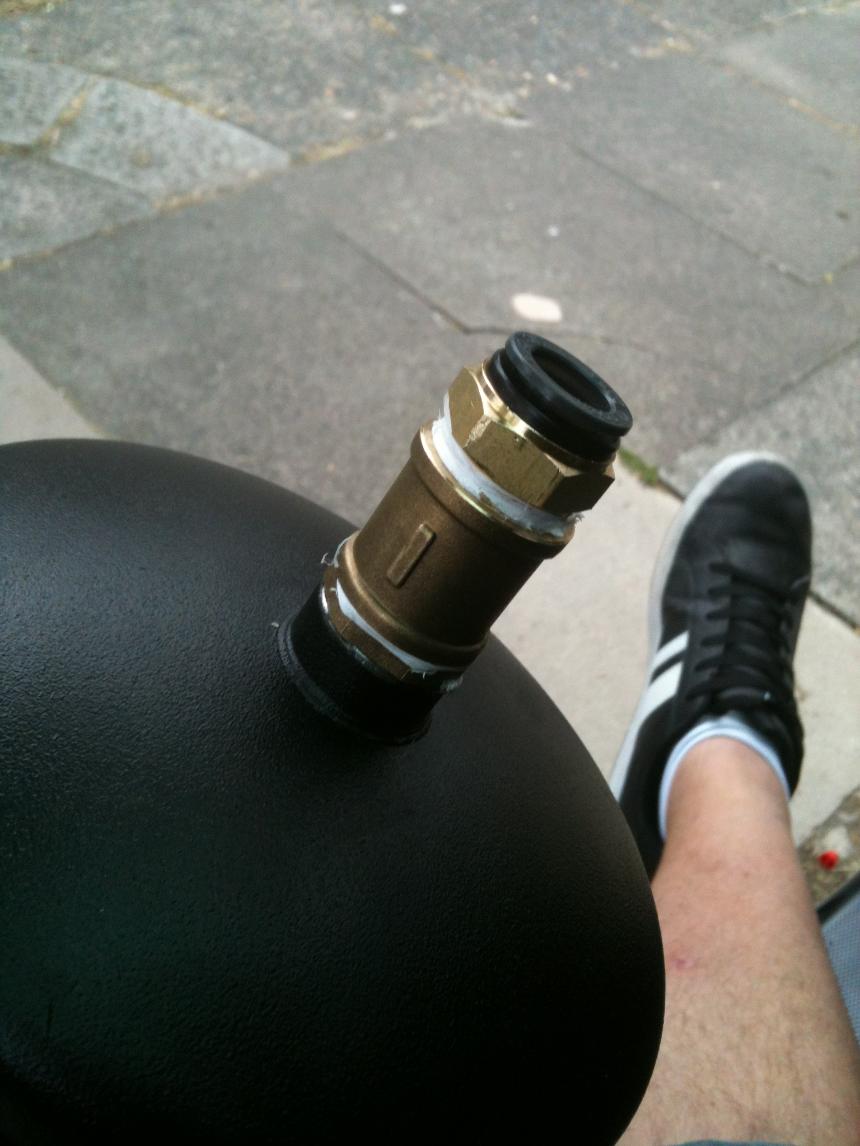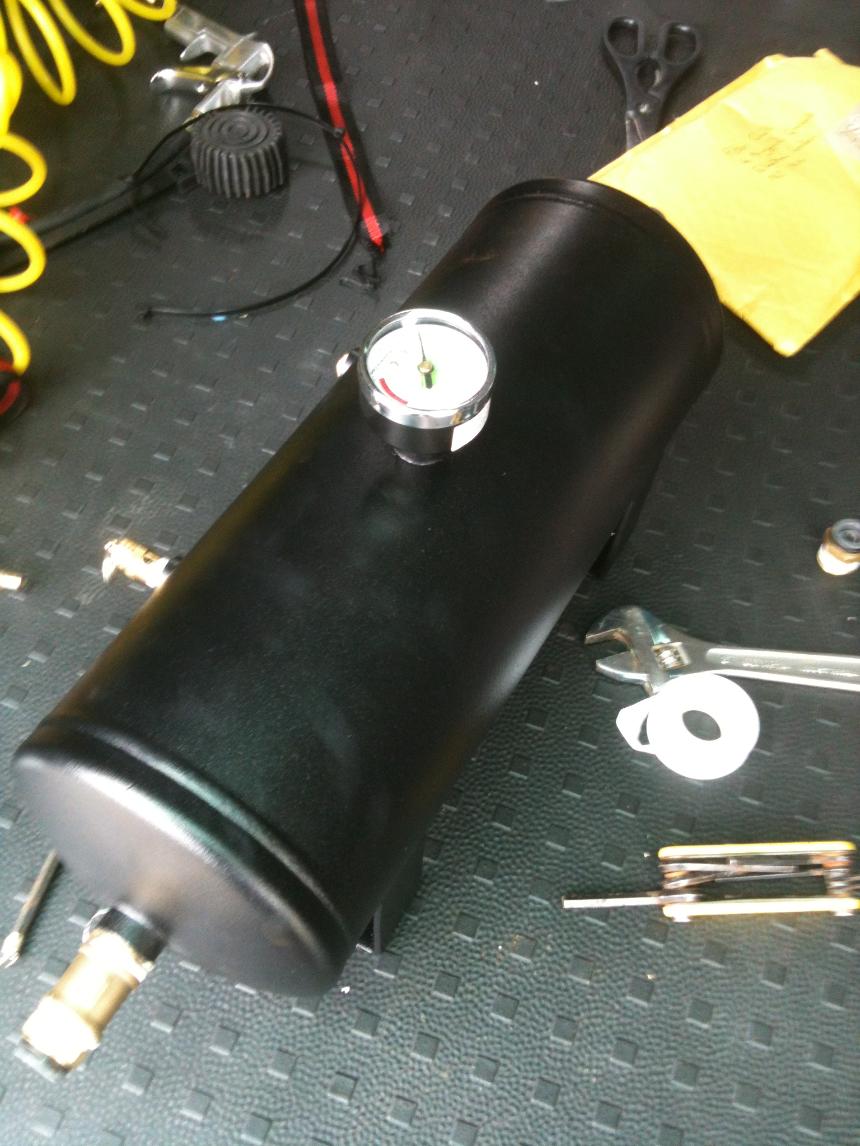 I THEN DECIDED THE BRASS COUPLERS LOOKED A BIT NAFF SO I DECIDED TO SPRAY THE TANK & COUPLERS BLACK.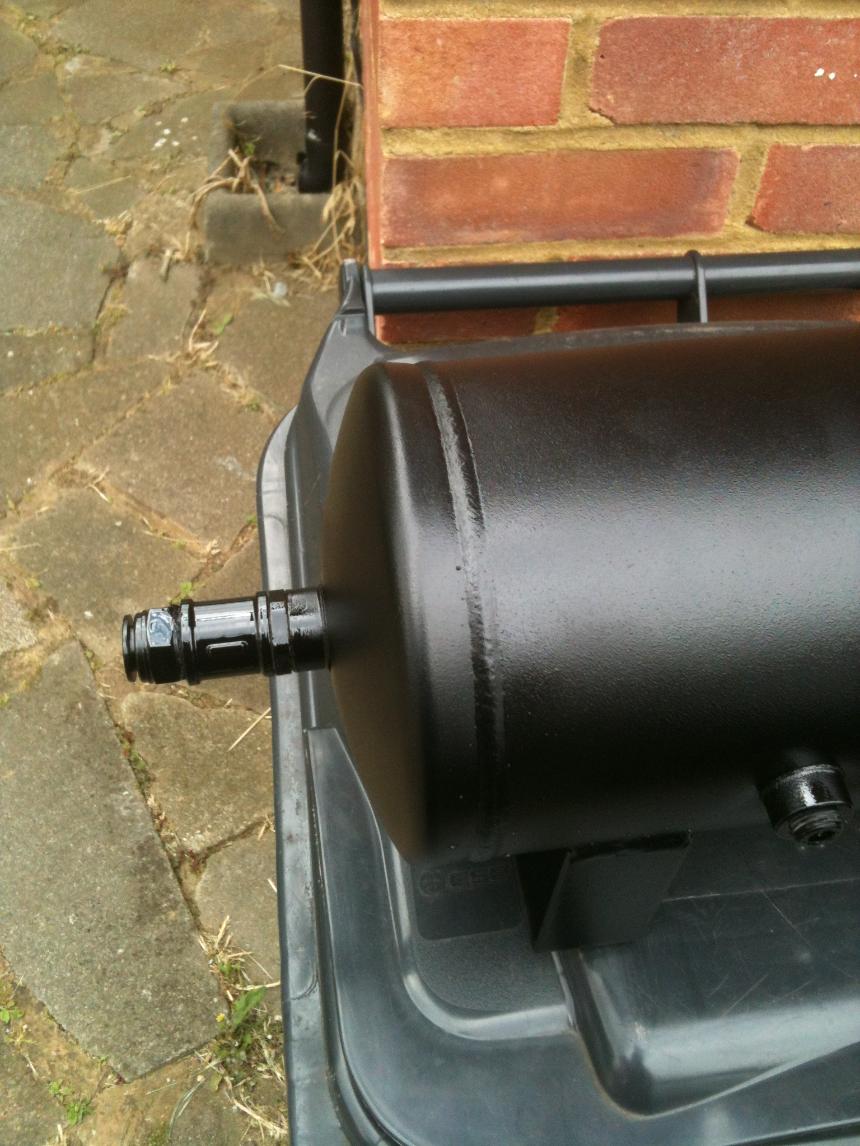 I PURCHASED SOME STRAPS SPECIALLY TO KEEP THE TWO TANKS TOGETHER, BUT THEN I HAD A THOUGHT, THE RATCHET PARTS WOULD LOOK A LOT BETTER IN BLACK & WHILST I HAD THE SPRAY CAN OUT, I GAVE THEM A COUPLE OF CHEEKY COATS :)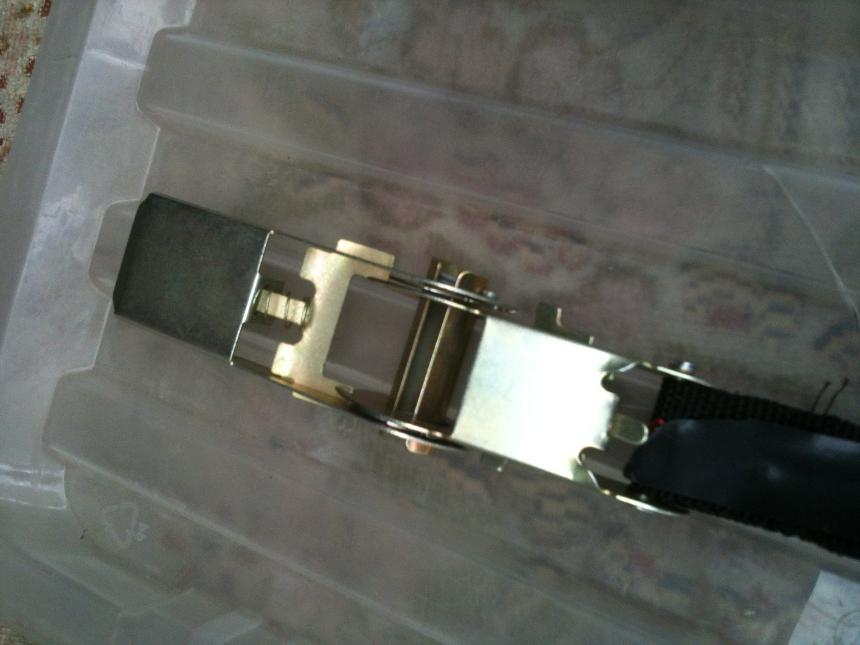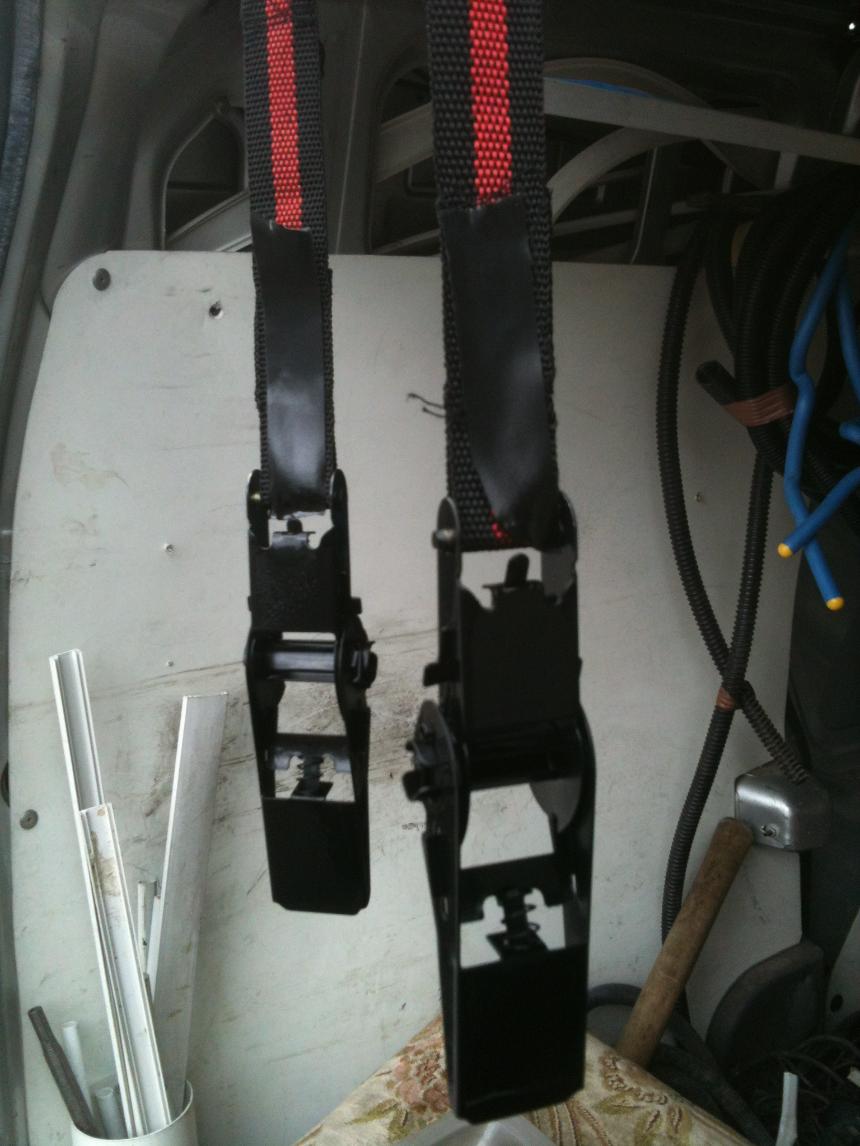 NEXT JOB TO DO WAS TO TAKE OFF THE PRESSURE RELEASE VALVE & FIT ON A PCL AIRLINE CONNECTOR SO WAYNE CALL USE AN AIRLINE TO BLOW OUT THE WATER FROM HIS JETSKI ENGINE & OF COURSE INFLATE HIS TYRES IF NEED BE.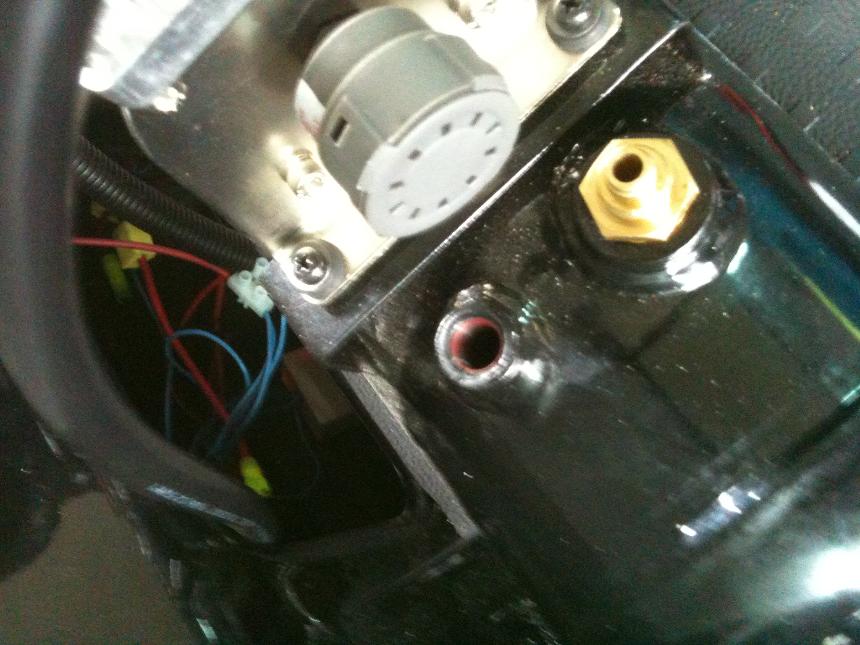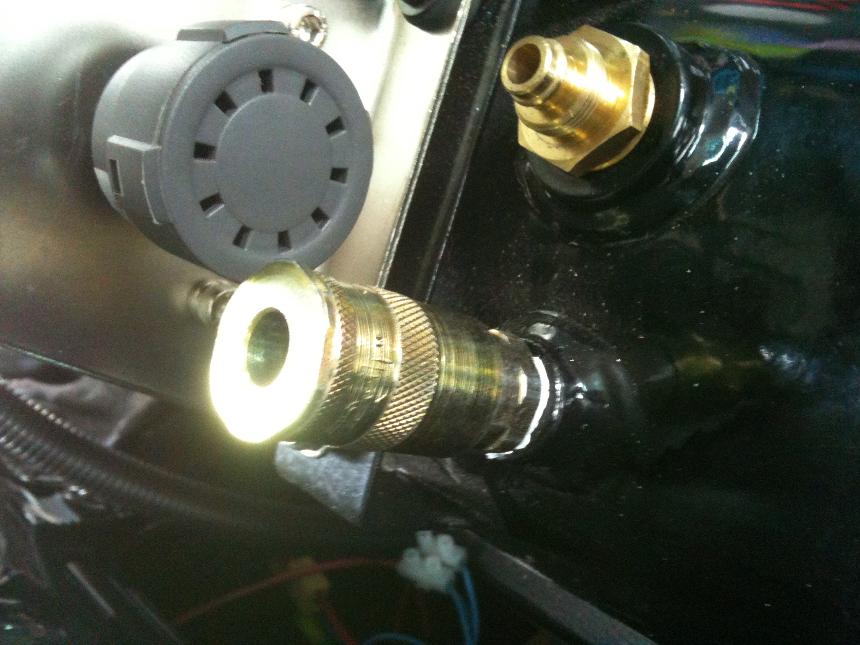 I COVERED UP THE PRESSURE SWITCH AND WIRES WITH INCH & HALF PLASTIC SLEEVING AS IT LOOKED UNTIDY THE WAY IT WAS.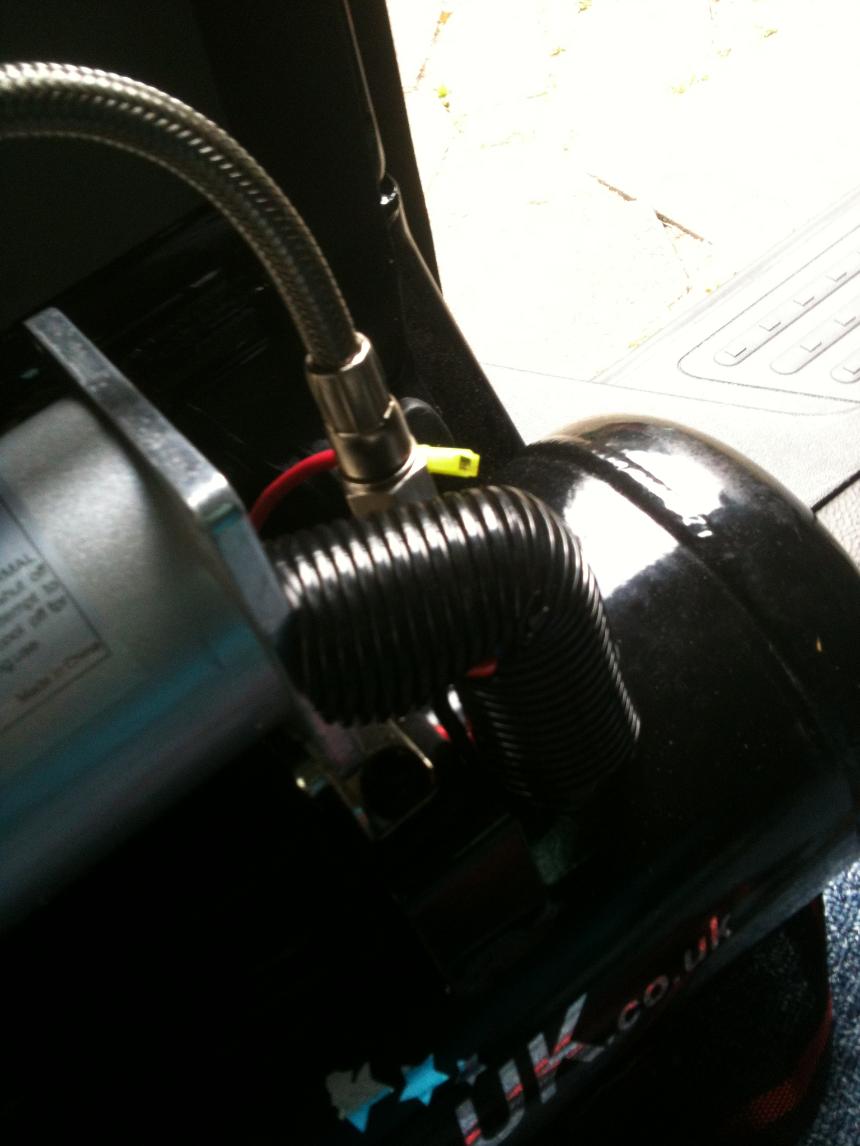 NEXT I HAD TO REMOVE THE SIDE PANEL OF THE VAN TO RAISE & HIDE THE REMOTE CONTROL UP AT HIGH LEVEL TO GET A BETTER RECEPTION & GREATER DISTANCE.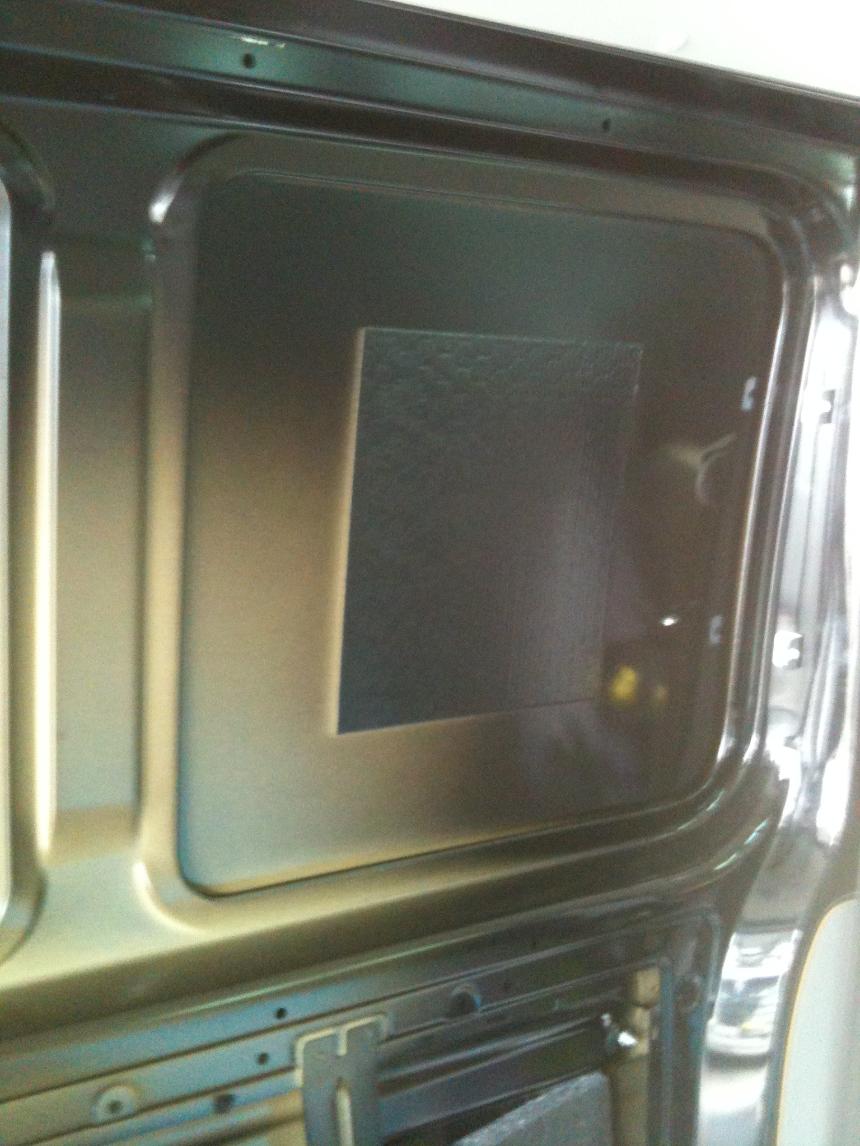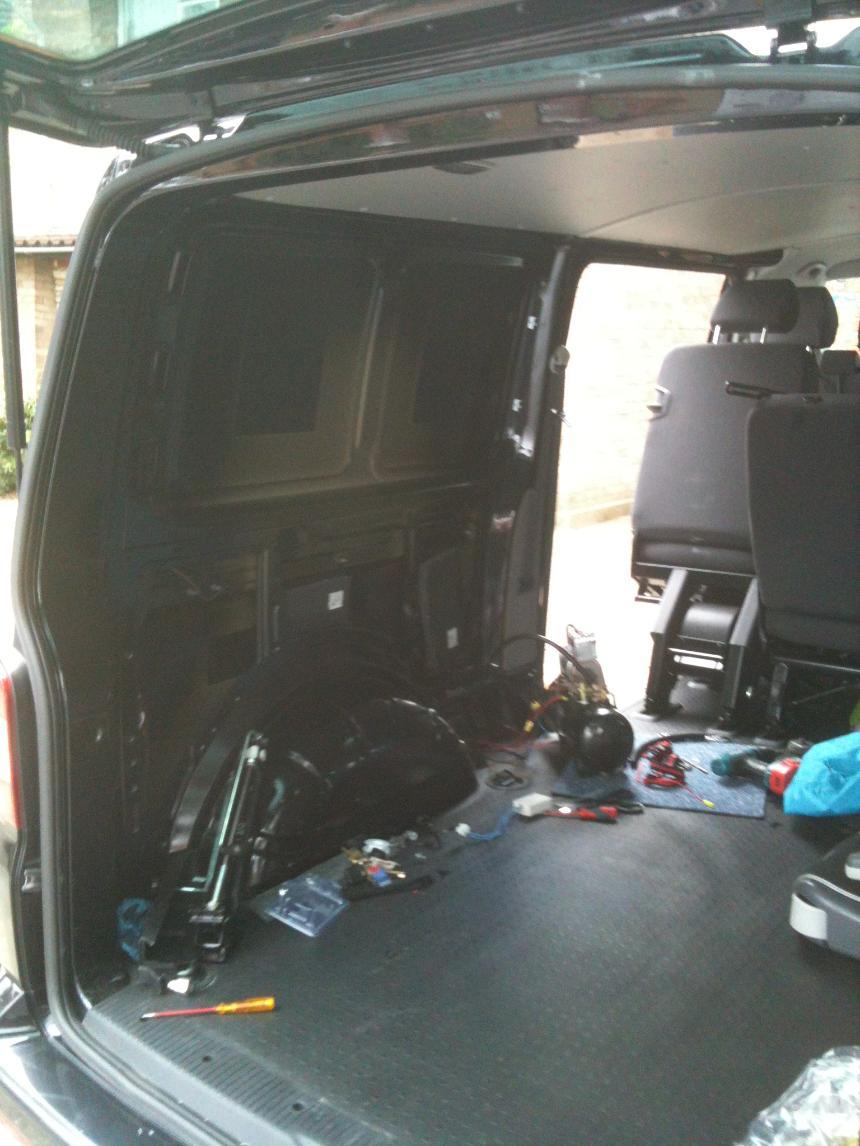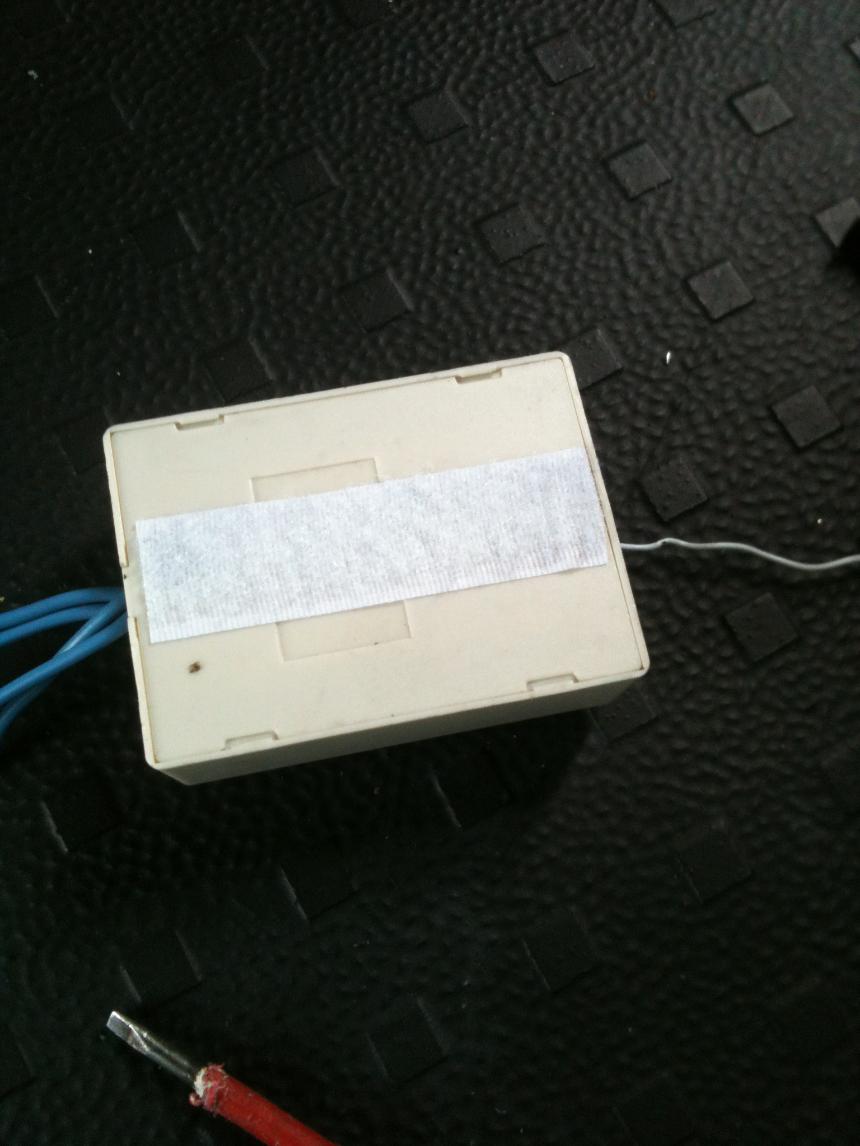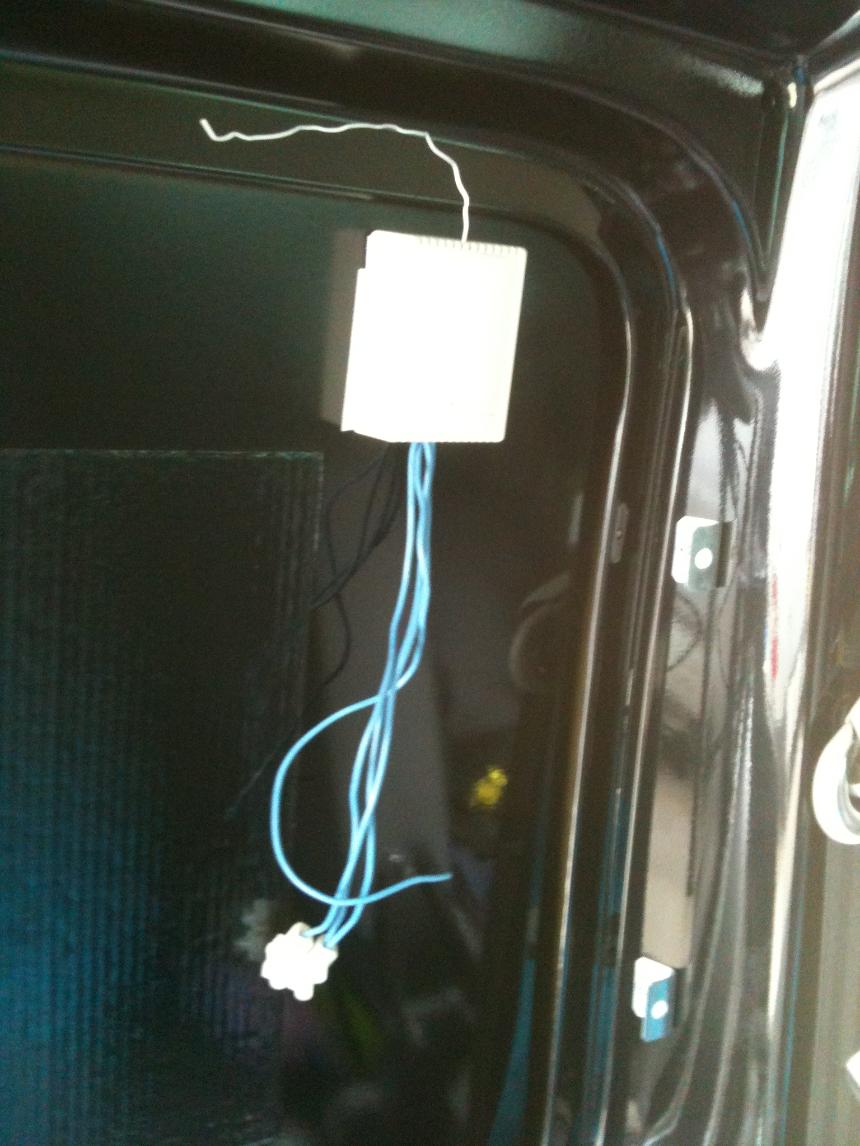 NOW AFTER FITTING BACK THE SIDE PANEL, ITS TIME TO START GETTING THE AIRLINES AND WIRING HIDDEN AND THEN STRAPPINGTHE TANKS TOGETHER ETC ETC.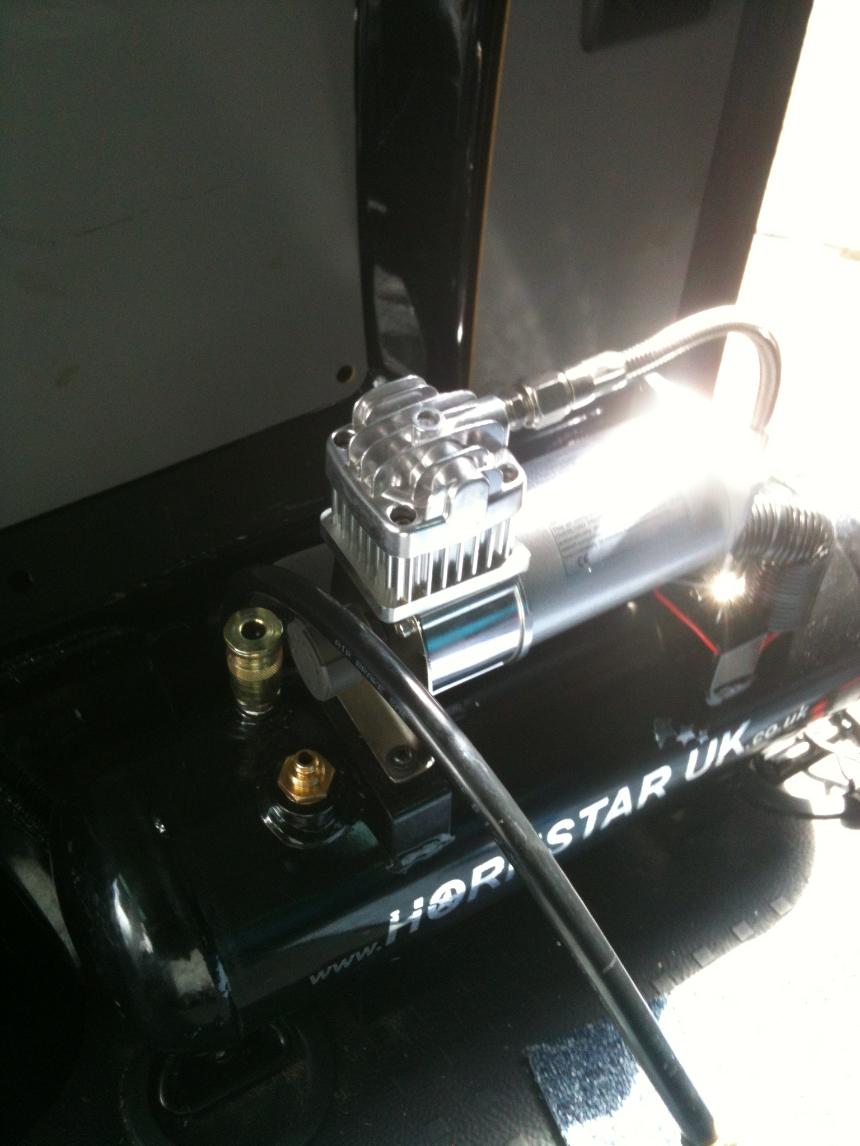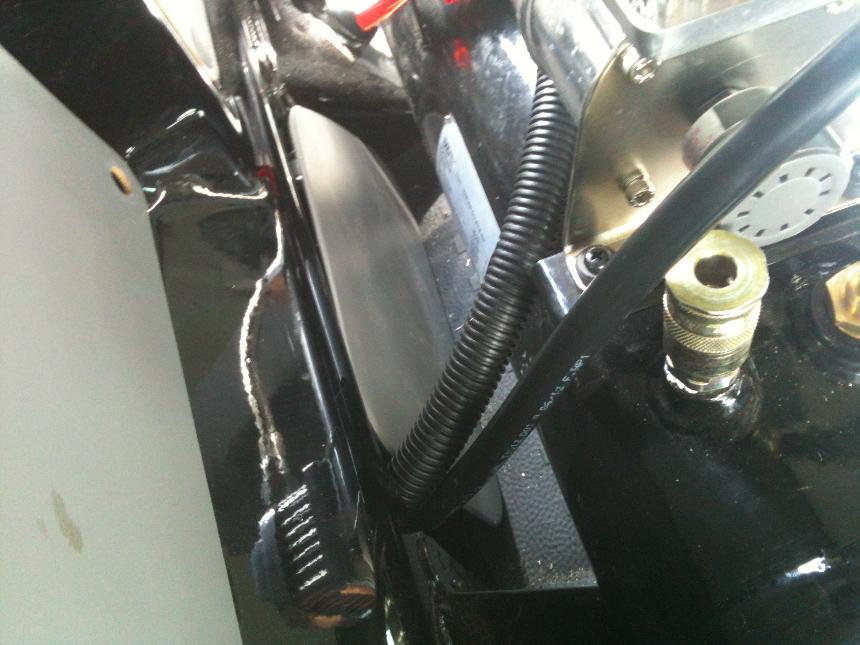 NEXT I FITTED A 25A ILLUMINATED KILL SWITCH ON THE TANK BRACKET, SO THE COMPRESSOR CAN BE ISOLATED, BUT THE HORNS CAN BE STILL TRIGGERED BY REMOTE CONTROL.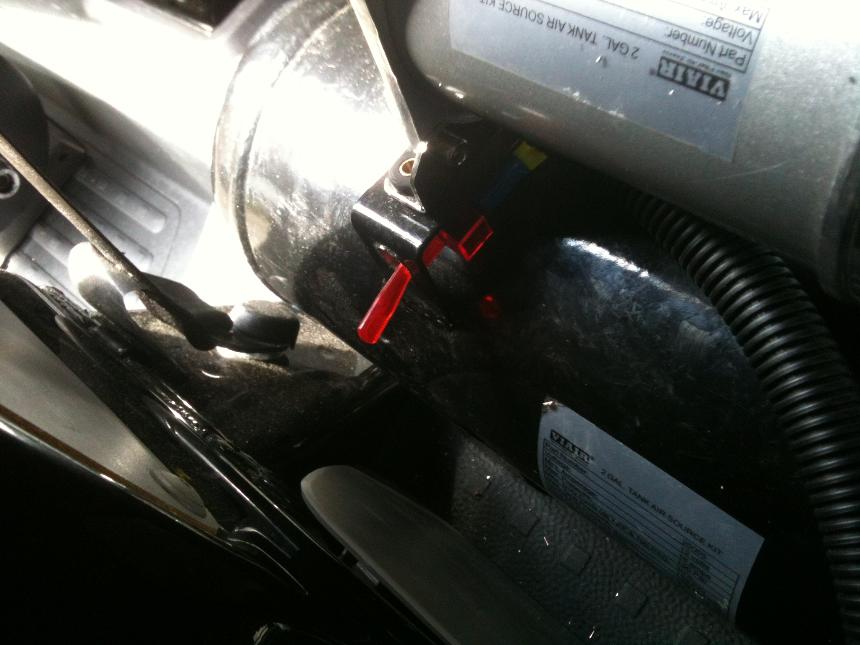 NOW IT WAS TIME TO CONNECT UP THE ALL IMPORTANT PIPEWORK.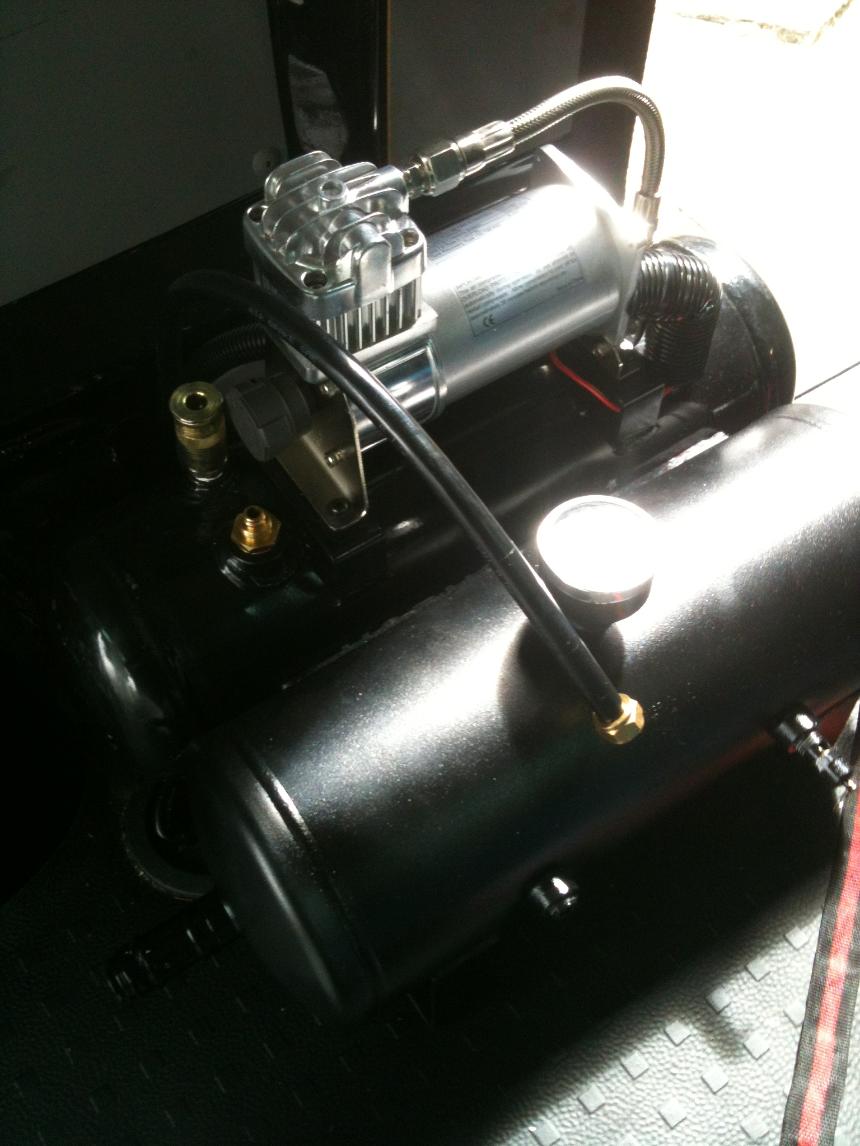 HORNBLASTERS,com PRESSURE GAUGE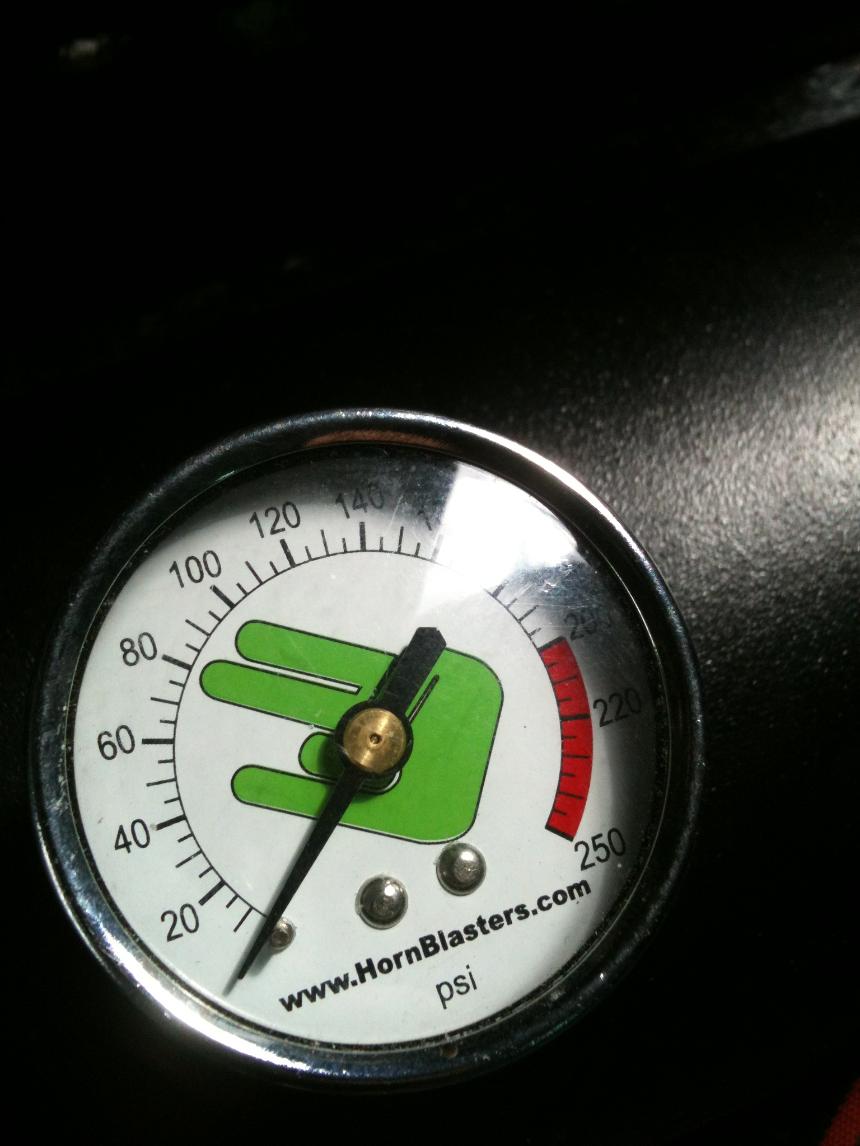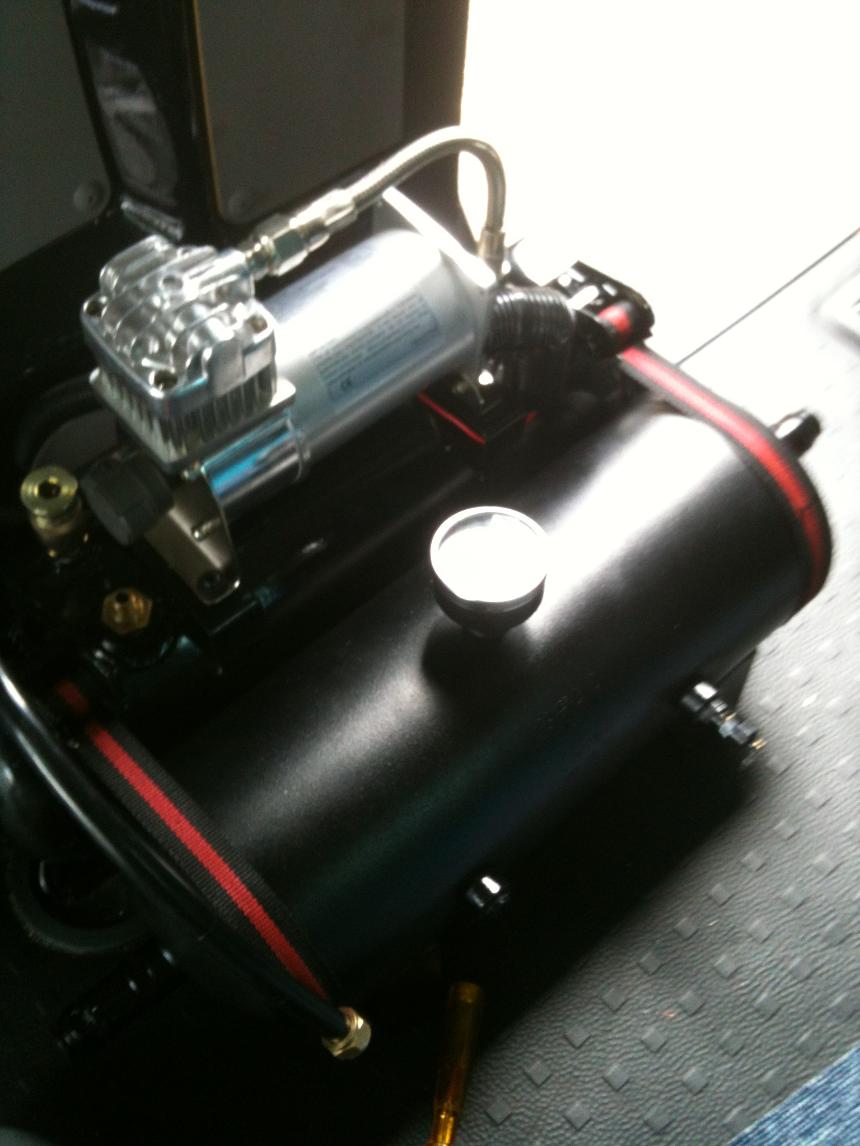 BEING SLIGHTLY ANAL. I SWAPPED THE BLACK PAINTED 175psi PRESSURE RELEASE VALVE BACK TO A NEW BRASS ONE, IT LOOKED NICER.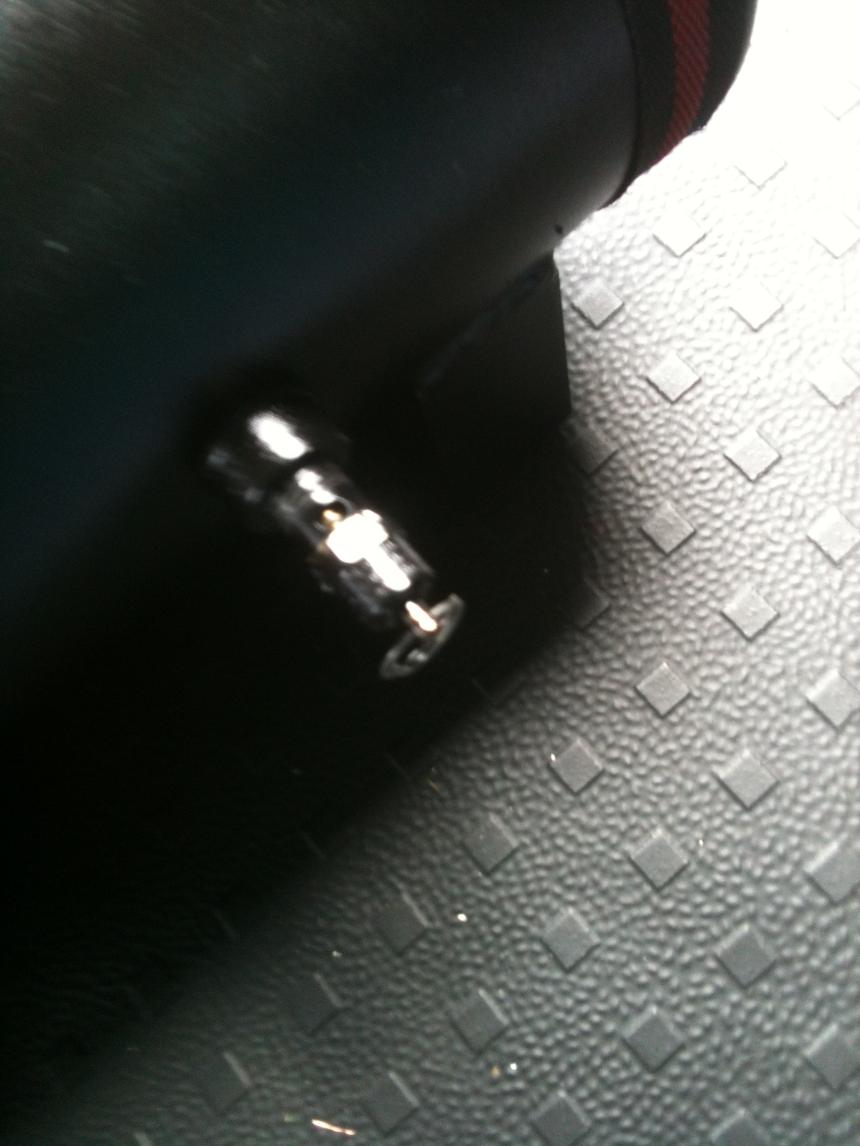 ALL PIPEWORK DONE, ALTHOUGH I WAS NOT HAPPY WITH THE PIECE LINKING BETWEEN THE TWO TANKS AS THEY WERE NOT GOING INTO THE PUSHFIT CONNECTORS PROPERLY OR STRAIGHT AND ALSO IT WAS TOUCHING THE COMPRESSOR HEAD.
SUFFICE TO SAY I CHANGED IT FOR A LONGER PIECE,
(IT DID NOT LOOK AS GOOD AS IT DID WITH A SHORTER PIECE, BUT LOOK AT IT THIS WAY, AT LEAST HE HAS A BIT MORE AIR STORAGE WITH A LONGER PIECE)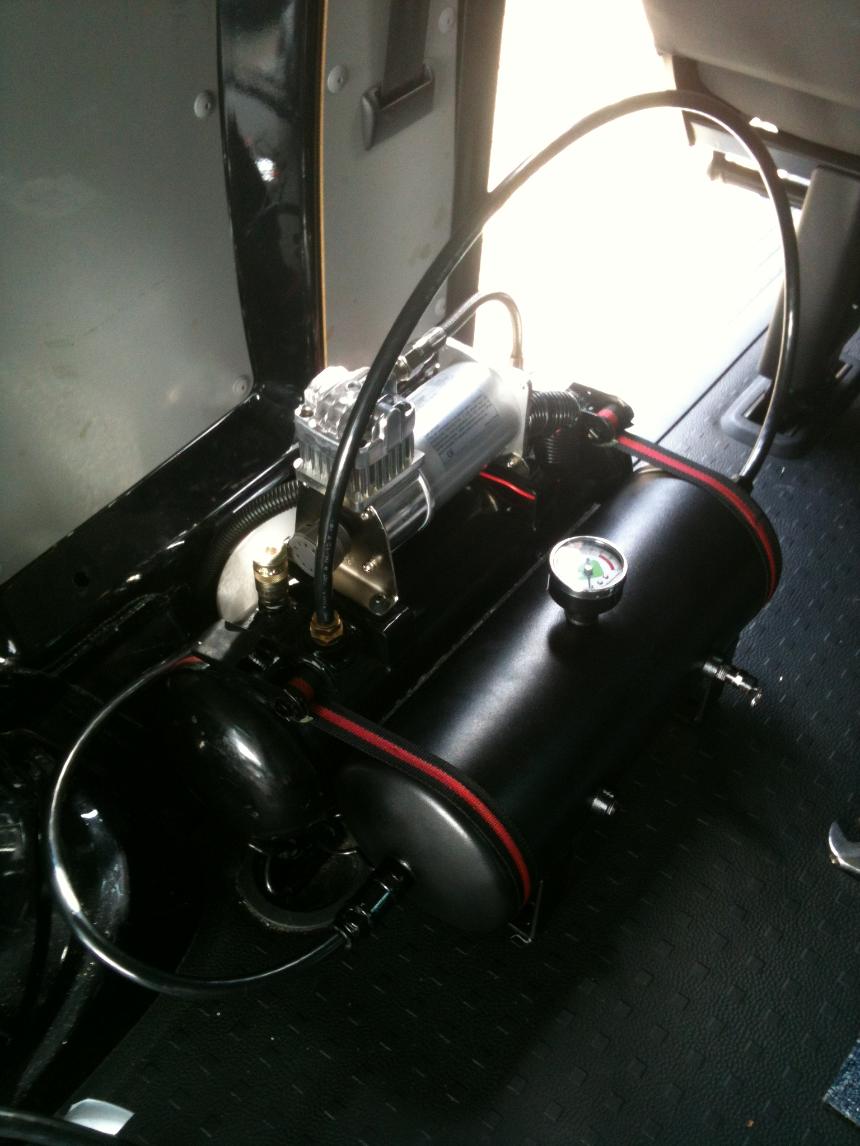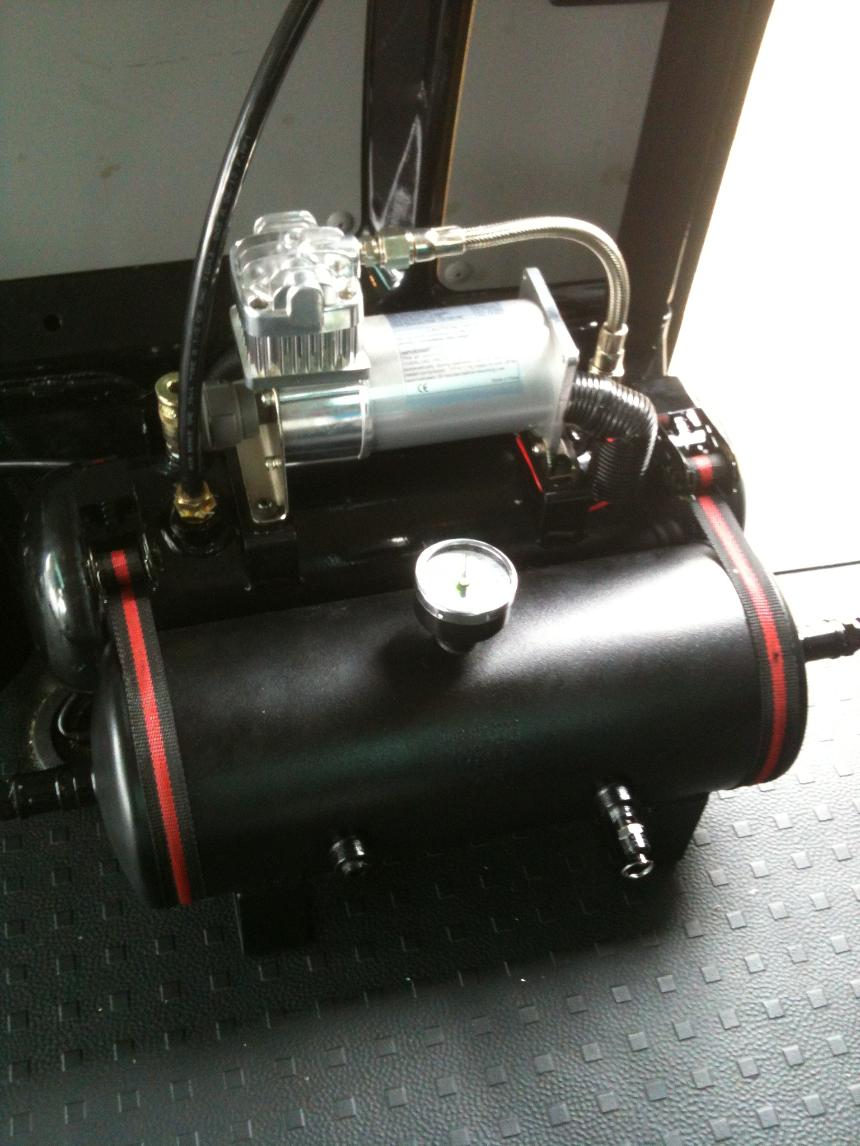 FINALLY I GET TO FIRE UP THESE PUPPIES & LEAK TEST IT ALL! TO MY SURPRISE, NOT ONE AIR LEAK, LEFT THE TANKS FOR JUST OVER AN HOUR & THE PRESSURE DID NOT DROP!!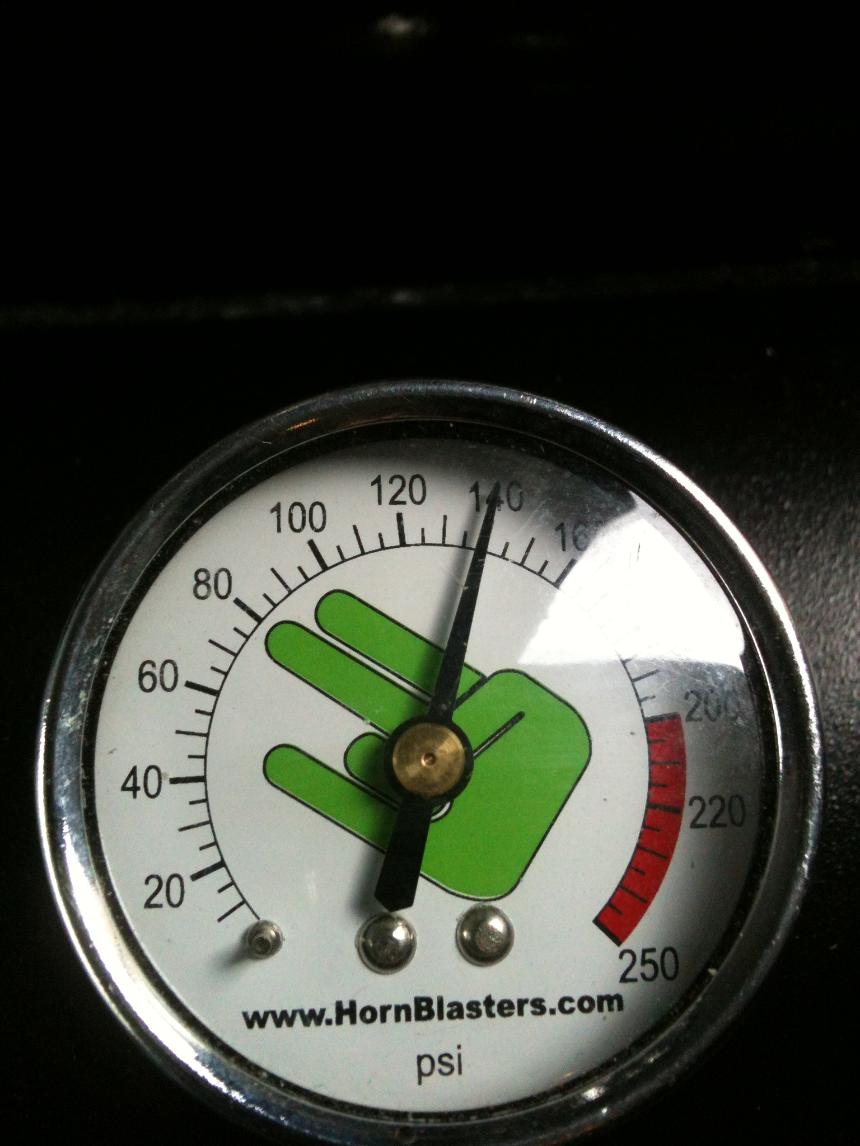 NEARLY DONE! SPENT THE FINAL HOUR TARTING UP THE TANKS WITH A FEW STICKERS ;)
NOTE HOW STRAIGHT THE PIPE IS NOW & AWAY FROM THE COMPRESSOR HEAD.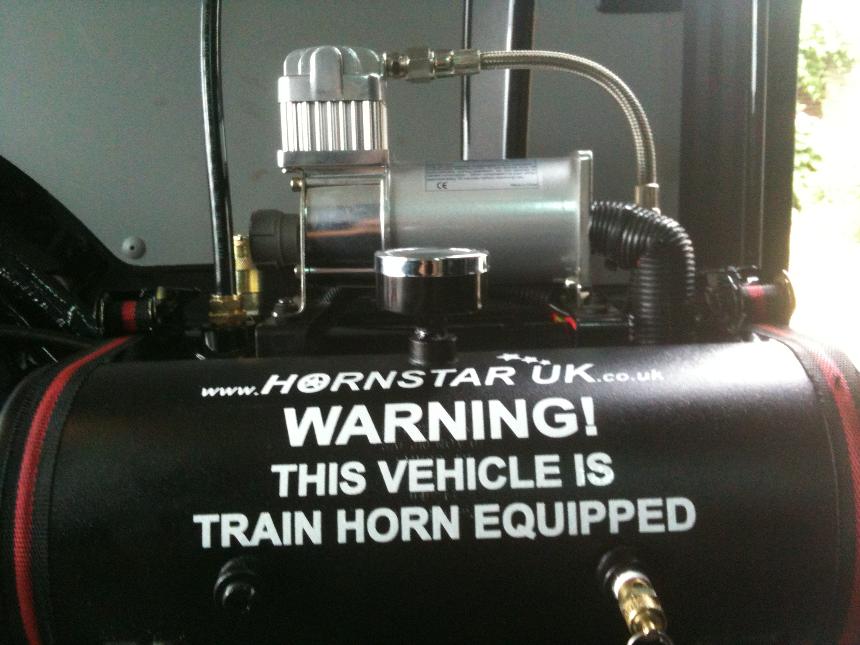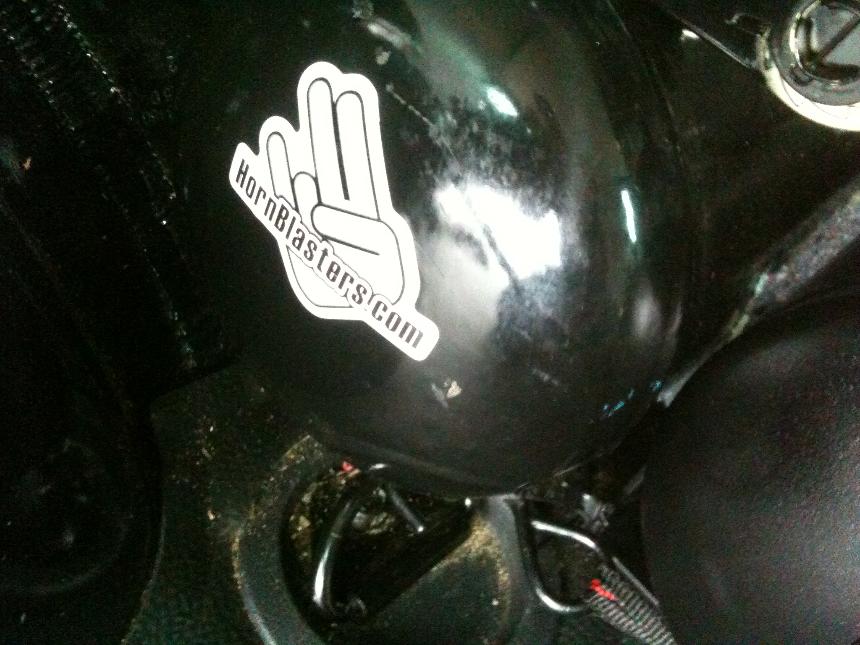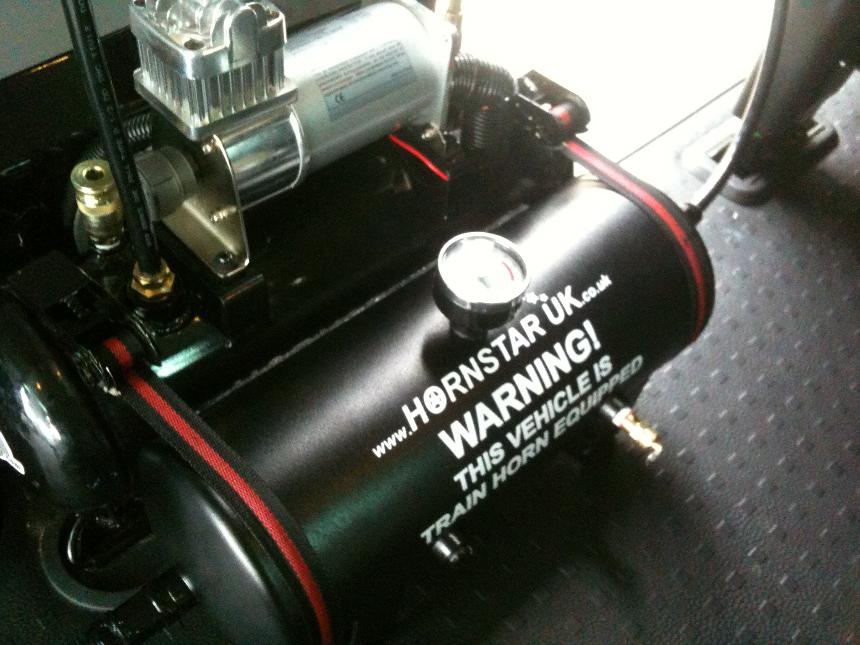 NOW THESE ARE THE PICTURES OF THE ORIGINAL INSTALLATION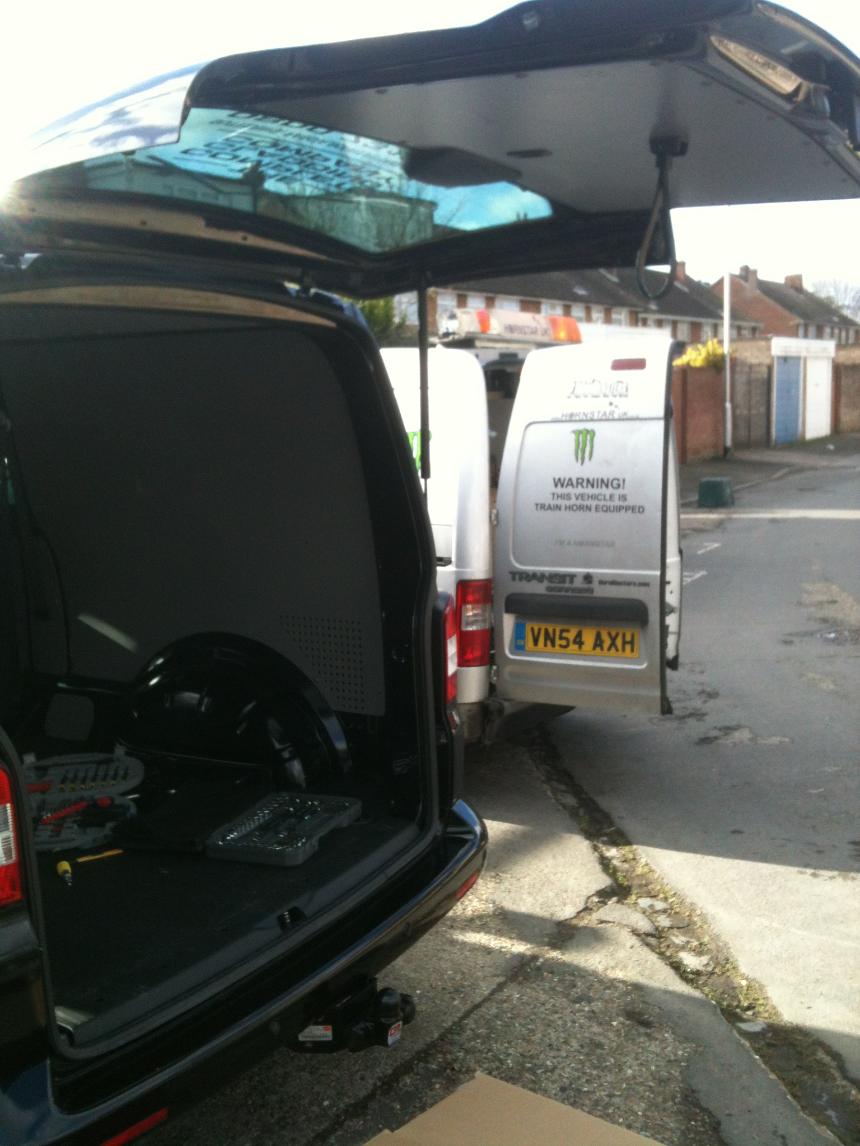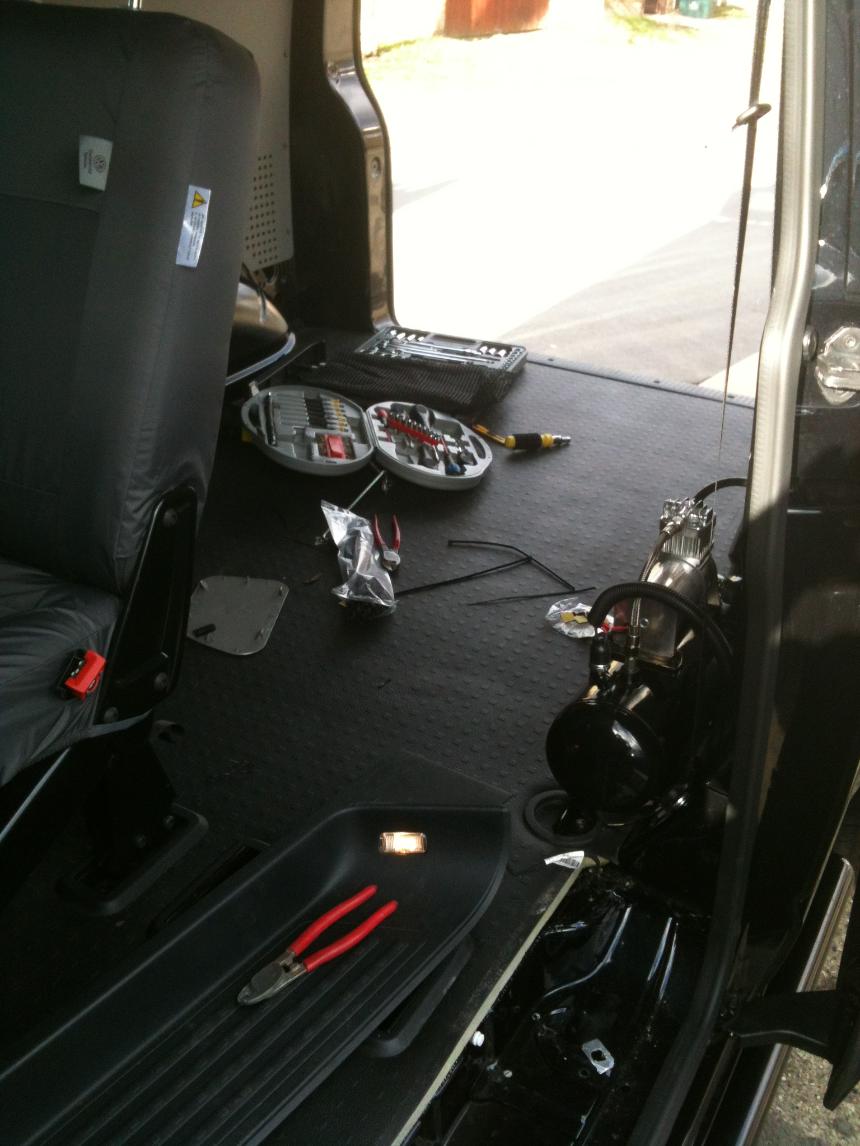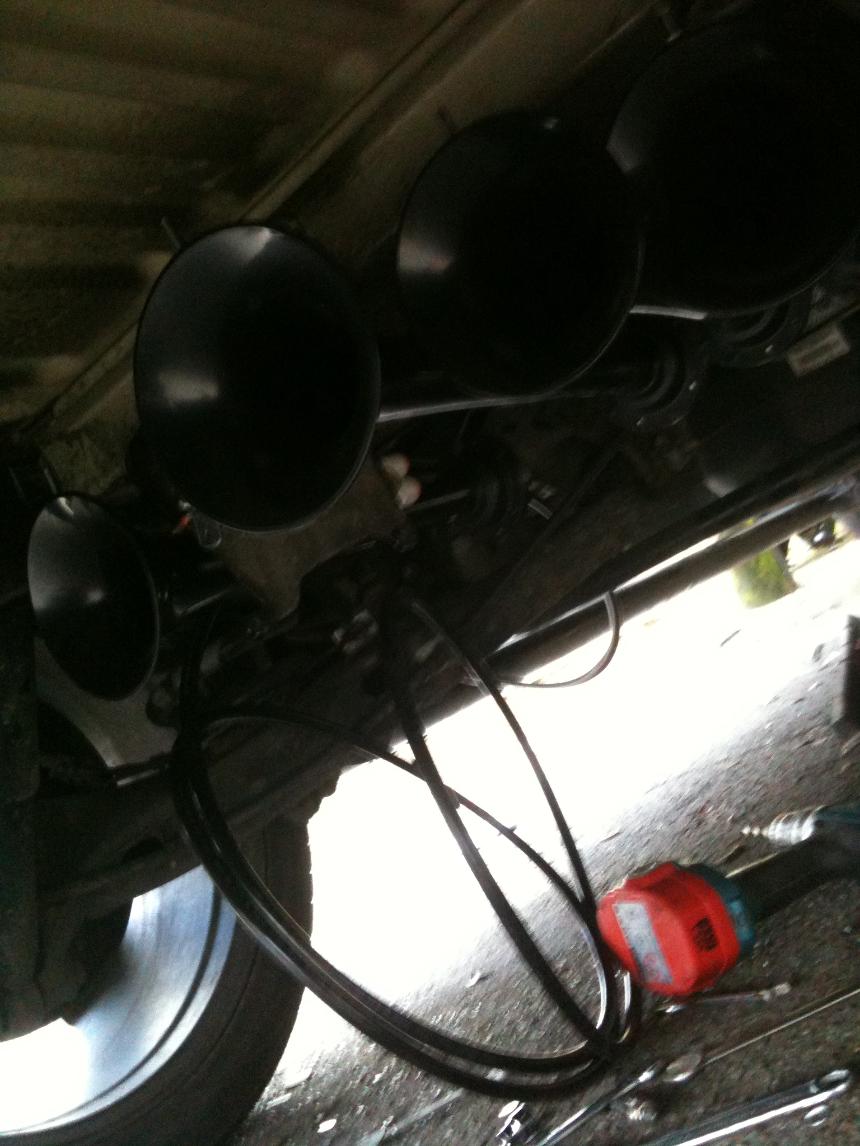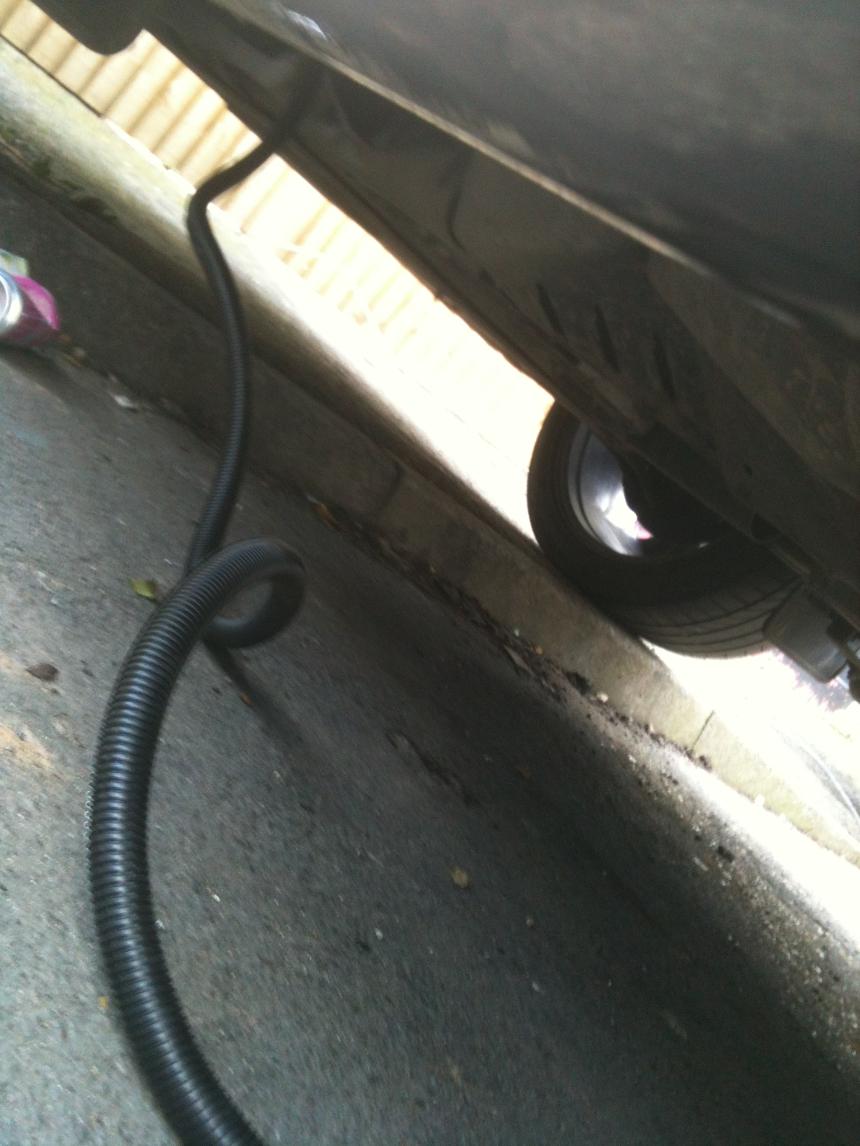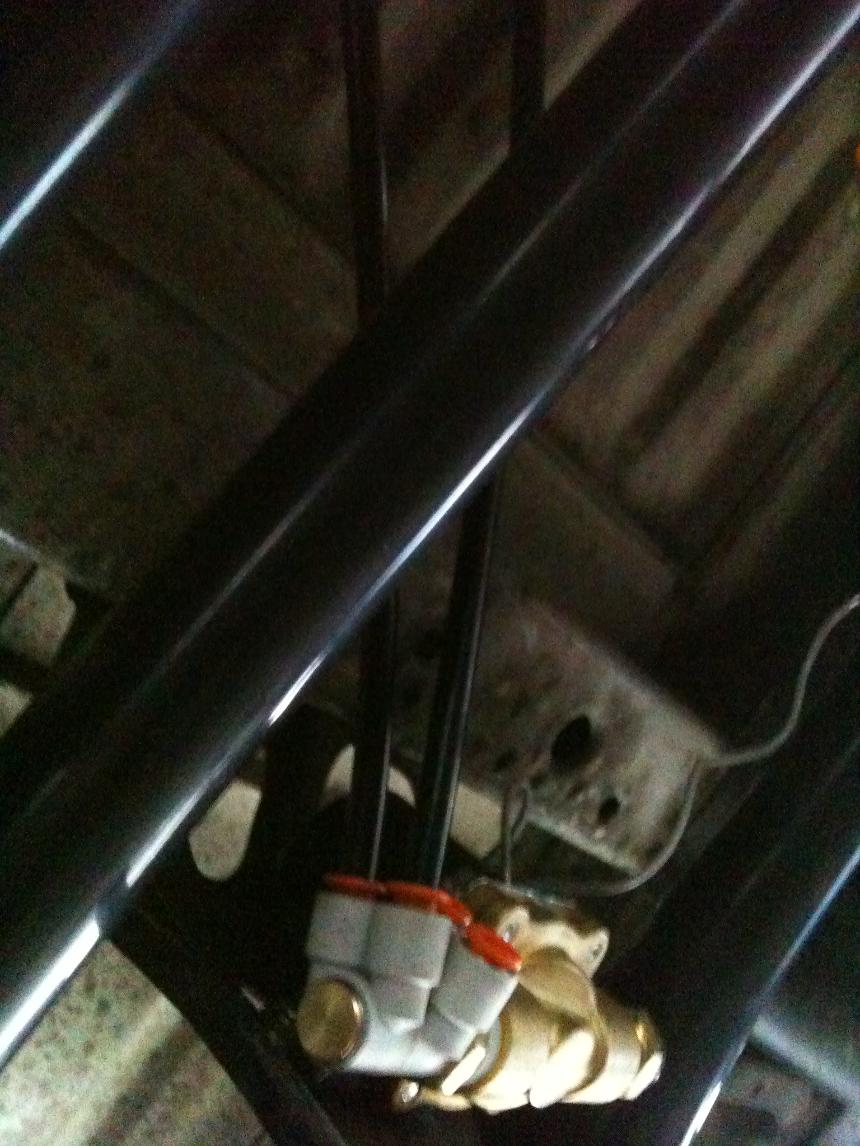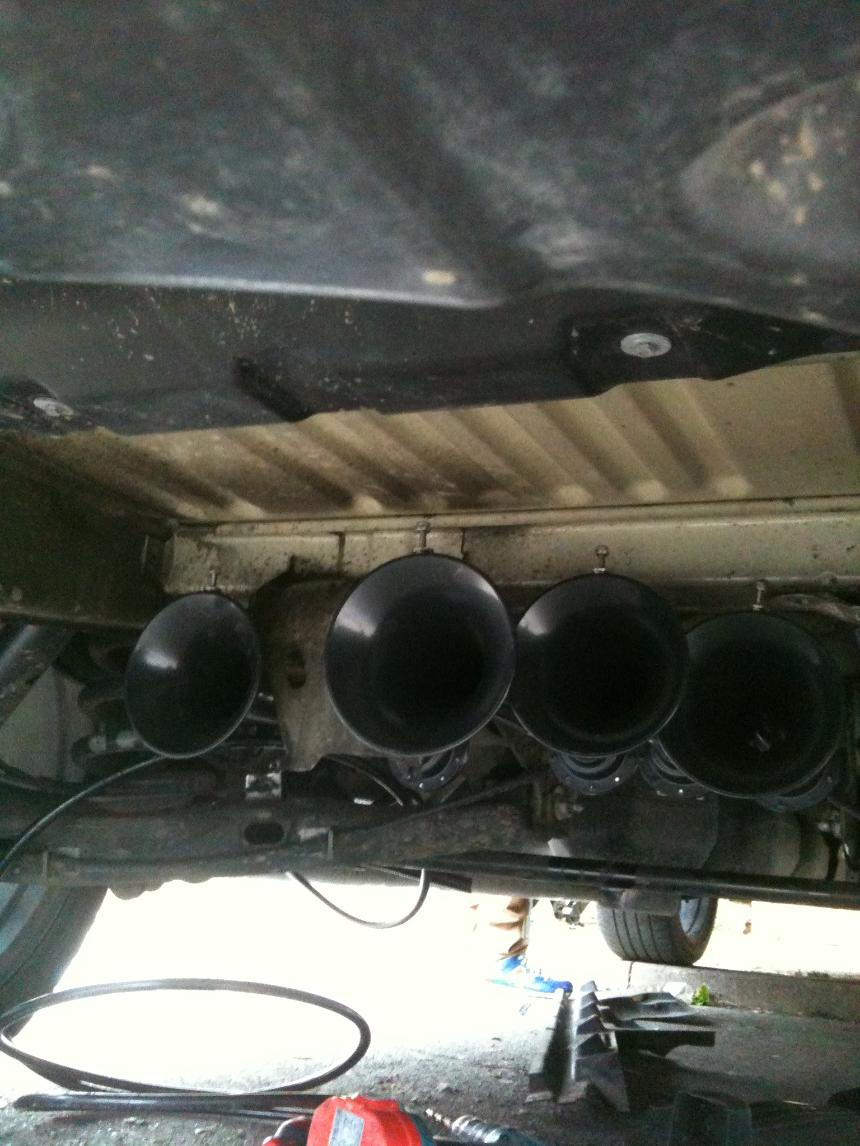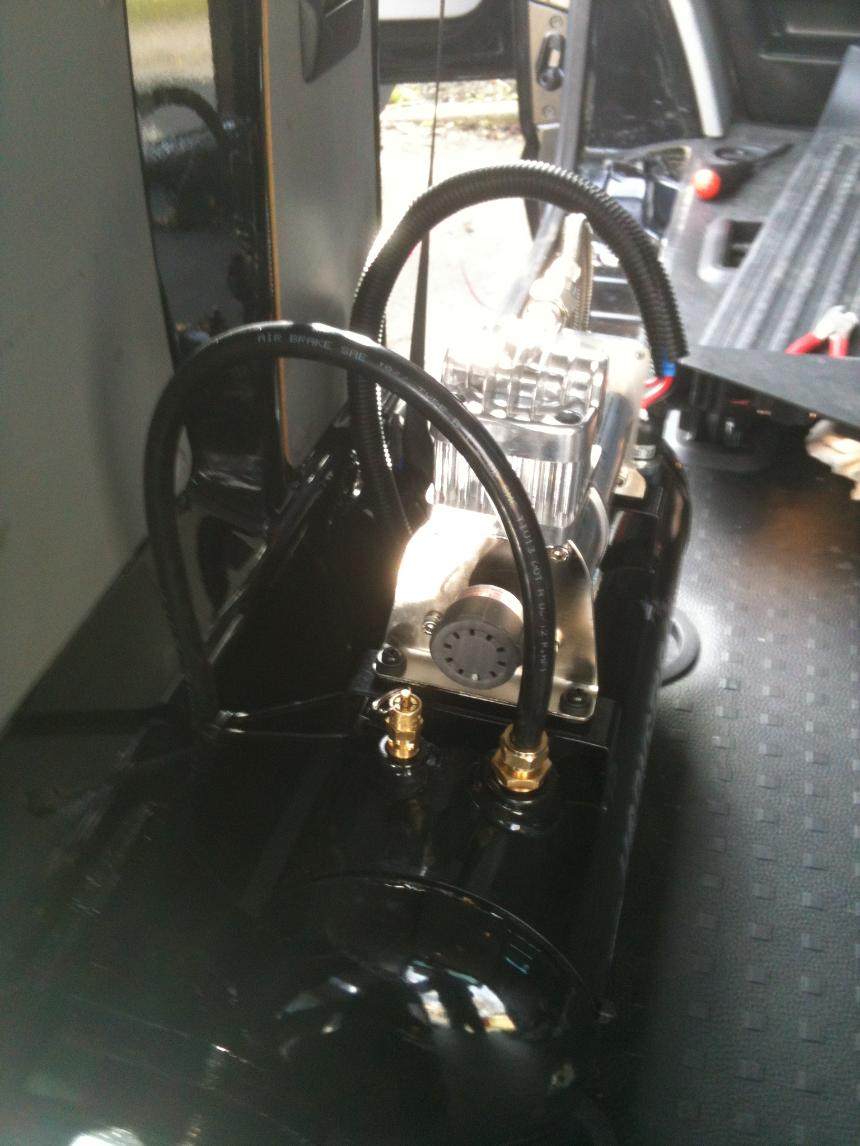 THIS IS LEE 'S MERCEDES. (Now sporting a 540XL Train Horn kit.)
INSTALLATION TIME:- 8AM-3PM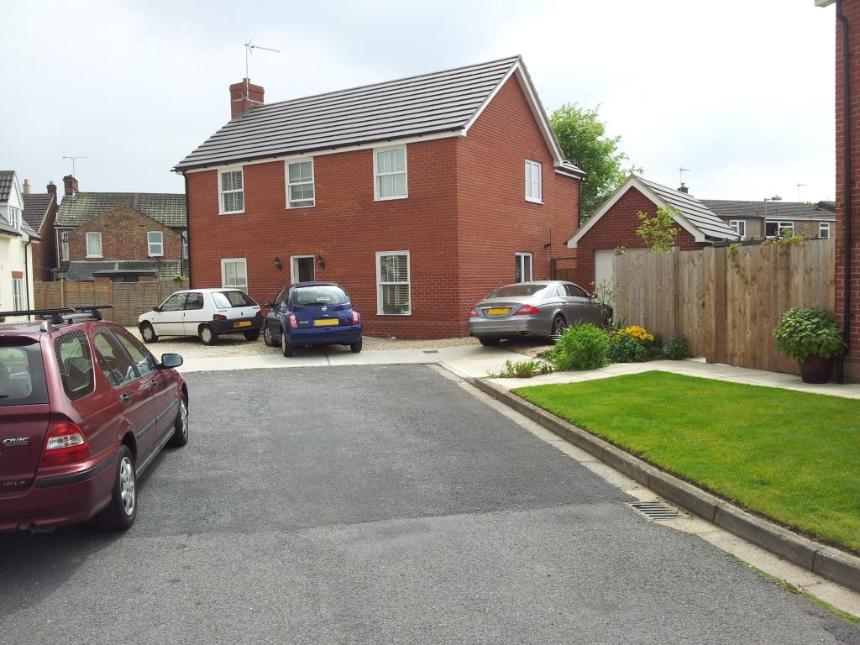 FIRST JOB WAS TO GET THE CAR UP ON THE RAMP TO CHECK OUT THE SPACE UNDERNEATH & CHECK OUT WHERE EVERYTHING WAS GOING TO BE FITTED.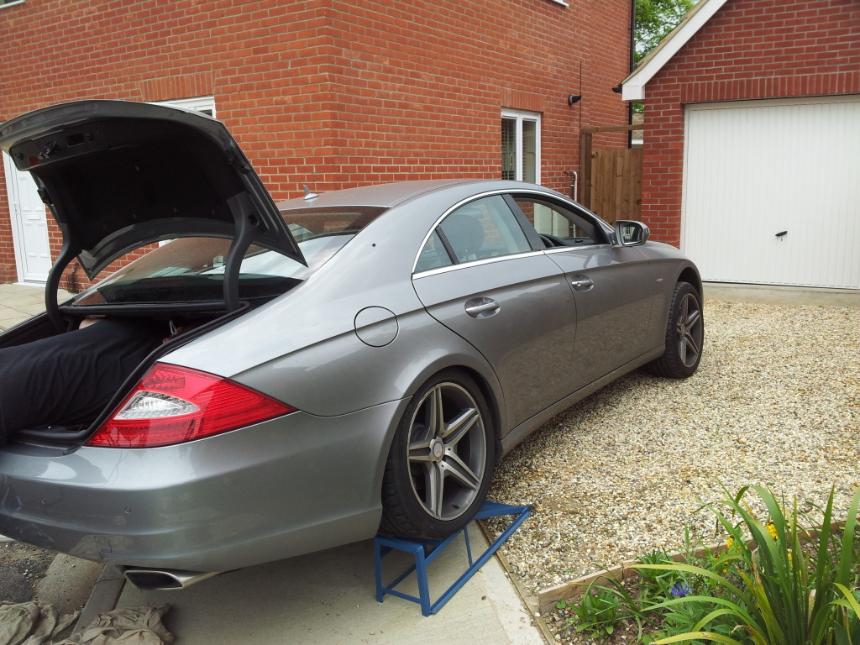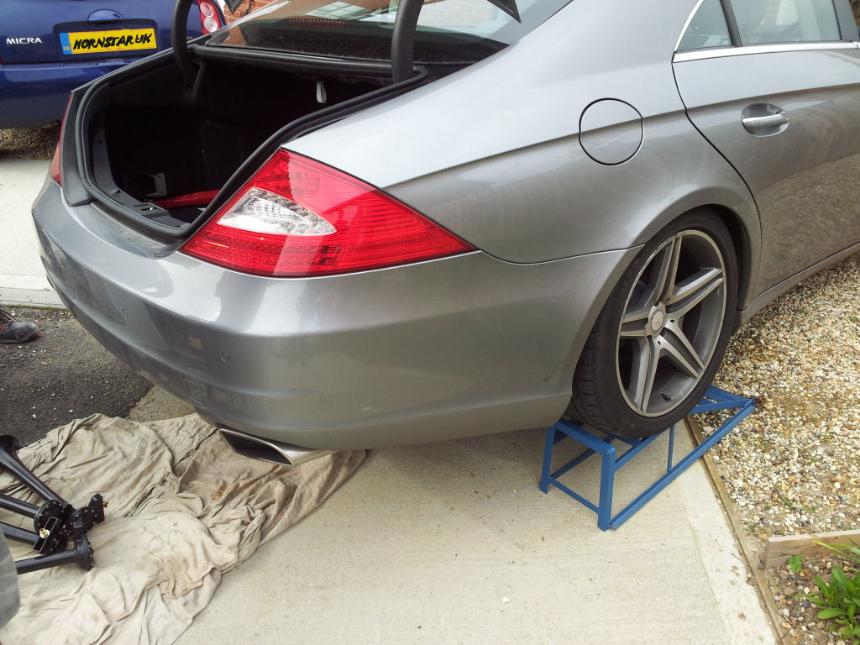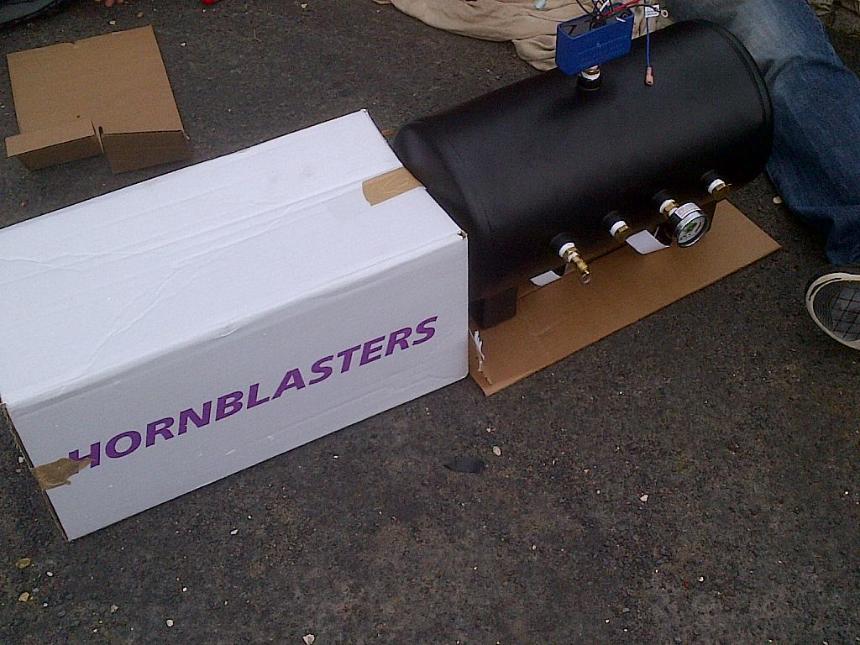 BECAUSE IT WAS OVER AN HOURS DRIVE I WANTED TO MAKE SURE WE FINISHED THIS INSTALL IN A DAY SO I TOOK ALONG MY TWO BROTHERS TO HELP OUT.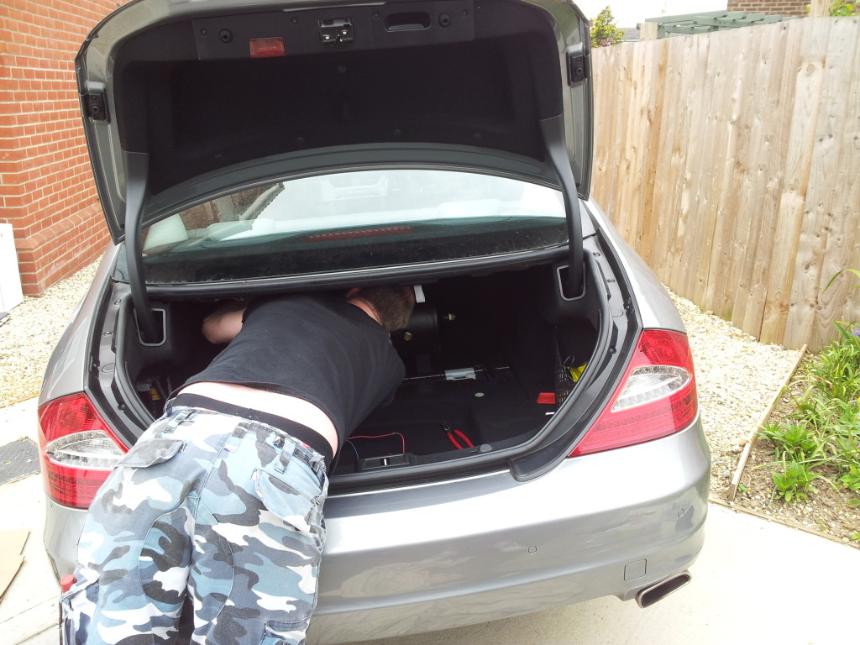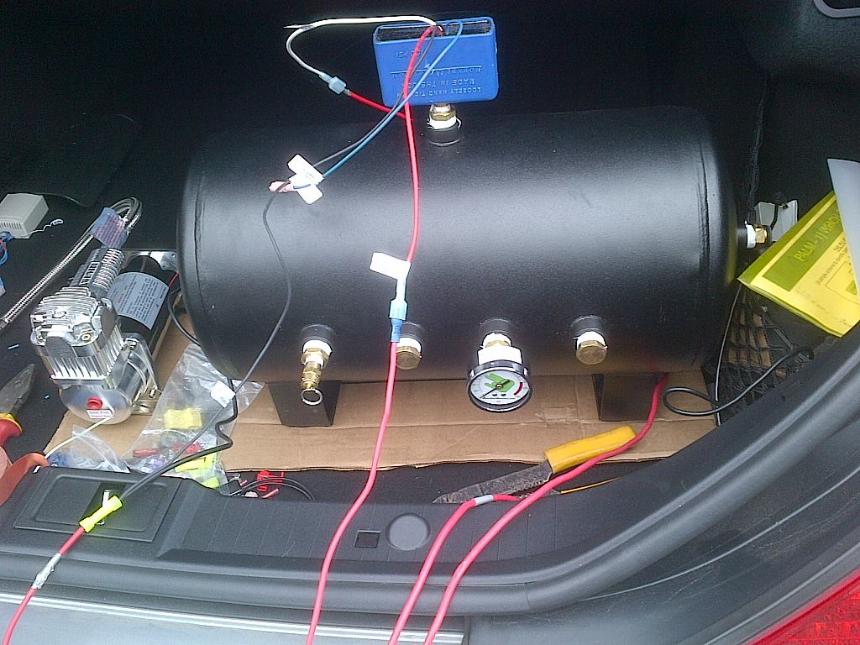 HERES ME APPLYING THE STICKERS I HAD MADE SPECIALLY IN CHROME TO THE TANK.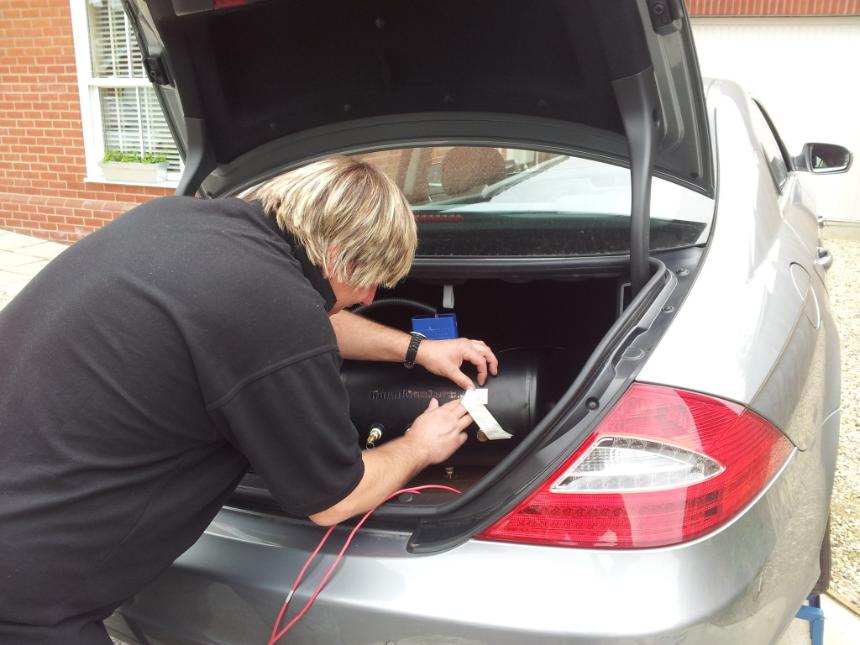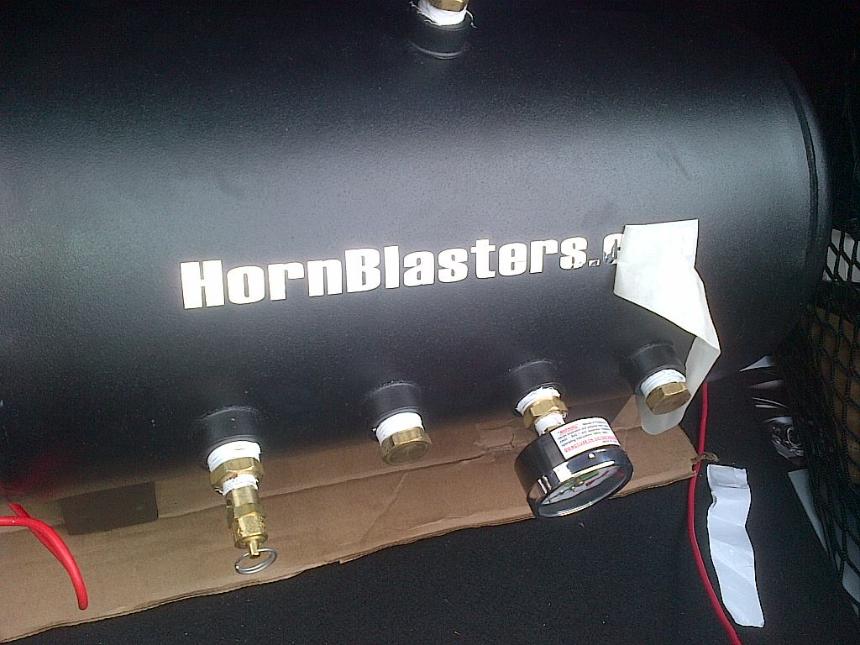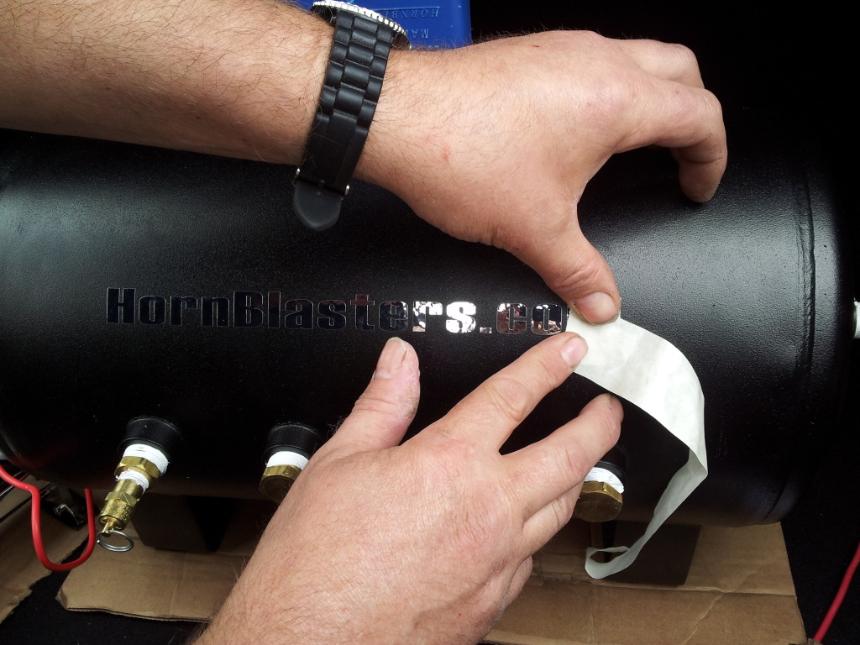 BECAUSE OF CERTAIN REQUIREMENTS REQUESTED BY LEE, THE TANK & COMPRESSOR WAS ATTACHED BY EXTRA STRONG SELF ADHESIVE VELCRO HOOKS ONLY SO THEY STUCK TO THE BOOT CARPET! (HENCE THE CARDBOARD UNDER THE TANK FOR EASE OF PLACING THE TANK.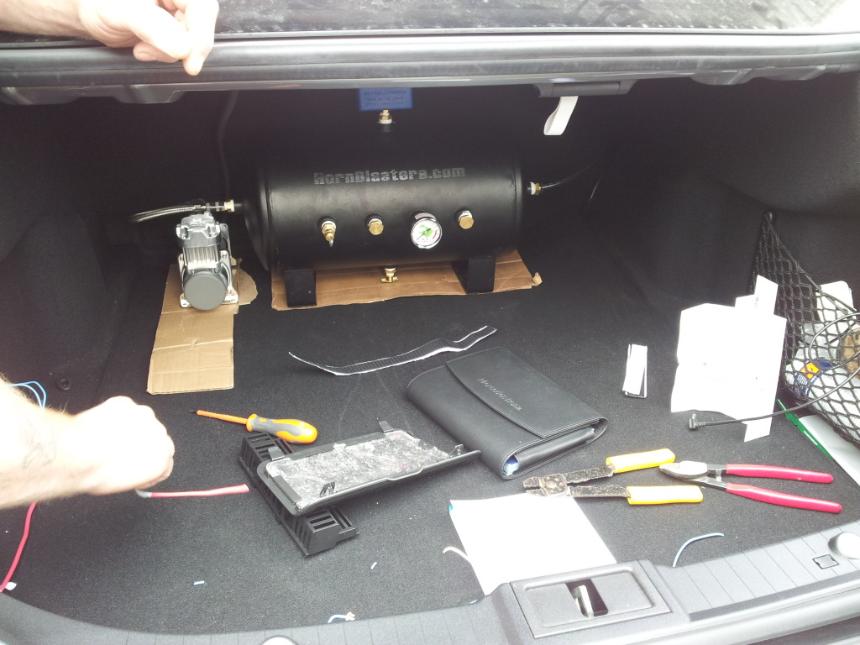 THE SHOCKERS WERE FITTED UP & BEHIND THE REAR BUMPER - PERFECT!!!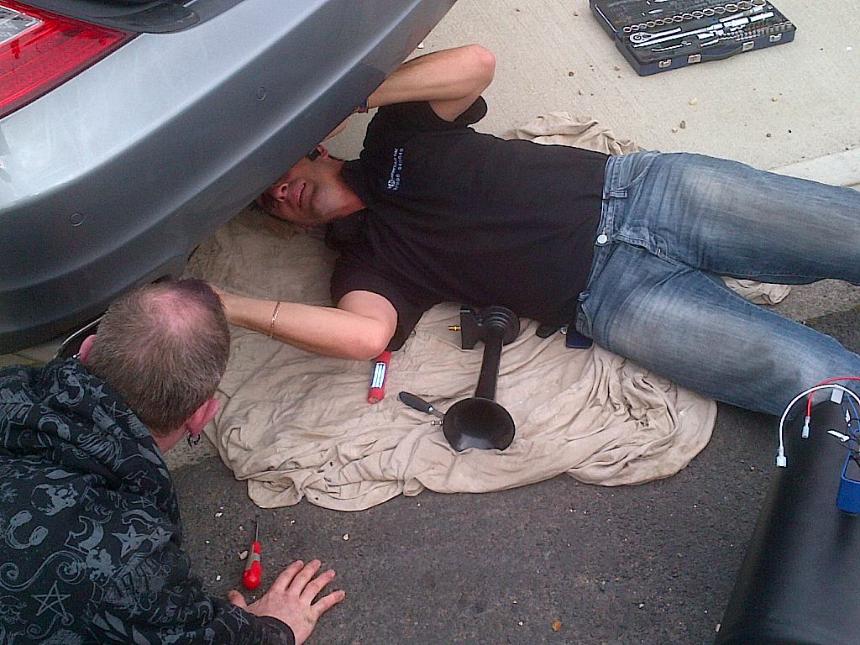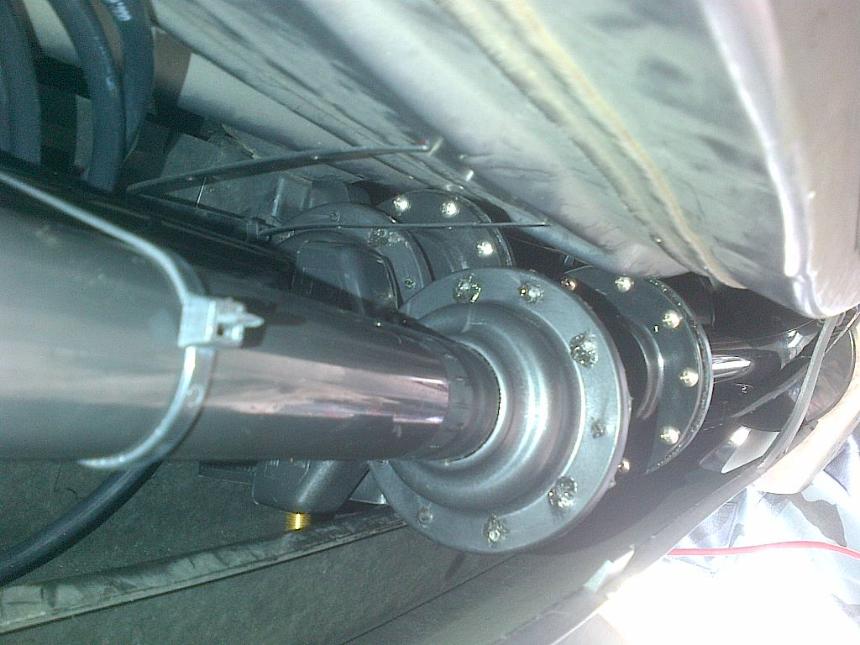 NEXT WE STARTED THE WIRING, LEE HAD A REMOTE CONTROL FITTED & ALSO AN INTERMITTENT LATCHING RELAY.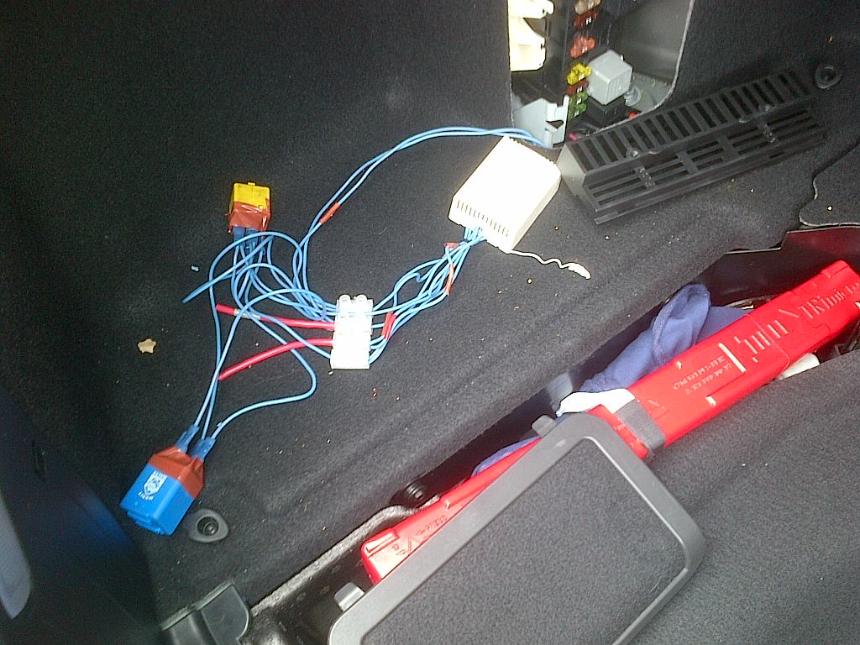 THE FINISHED INSTALLATION - LEE SAID "We done him proud and he was really impressed with our fitting skills" THANK YOU LEE.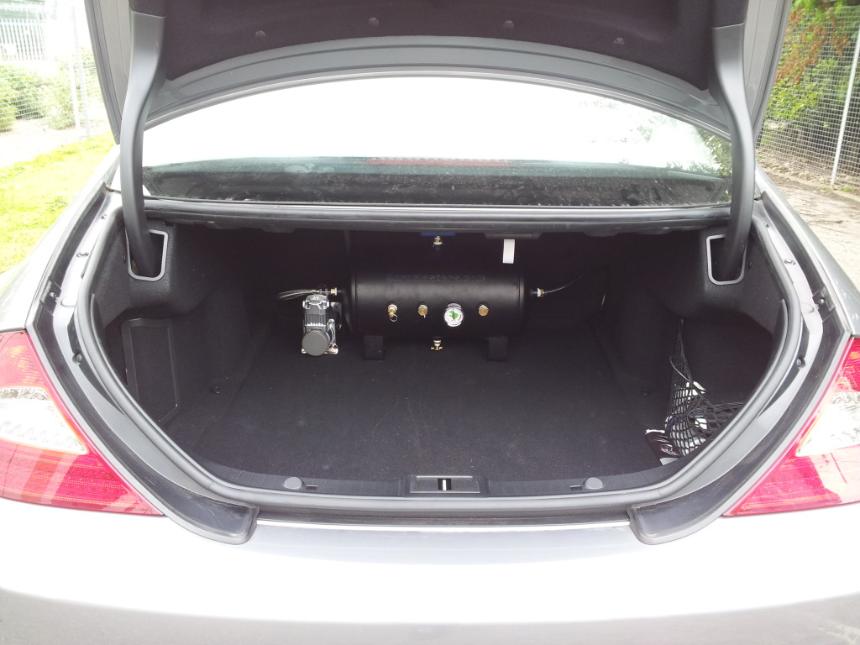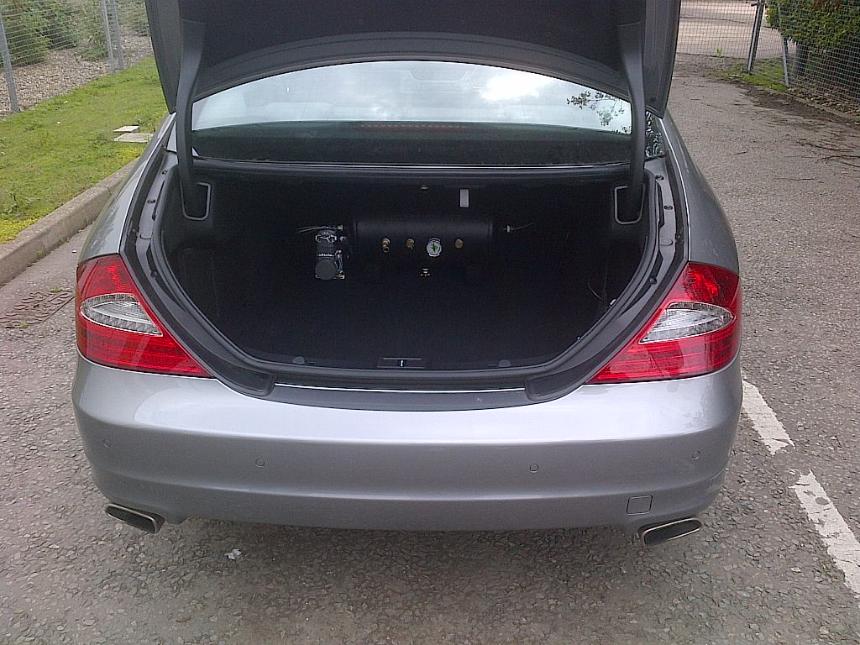 NICKS LEXUS LS400 FITTED WITH SHOCKER 540XL's
INSTALLATION TIME 8AM - 8PM -- 12hrs.
I have to start off by saying a little bit about Nicks car. Its a P Reg LEXUS LS400 which he bought off his Dad for very little money indeed. It has a huge stonking 4Litre V8 packed away under the Bonnet and has had an almost straight through cat back exhaust specially made. This car launches on kick down from 2nd to first and the noise is simply unbelievable, yet on tickover (& once the car has reached temperature) it purrs away like a kitten!
Thank you Nick for the experience, we were lucky with the weather and I'm sorry it was a long day for you, we had a blast though!!
ENJOY THOSE HORNS MATE!
HORNBLASTER SHOCKER 540XL 150psi & 5 GALLON TANK.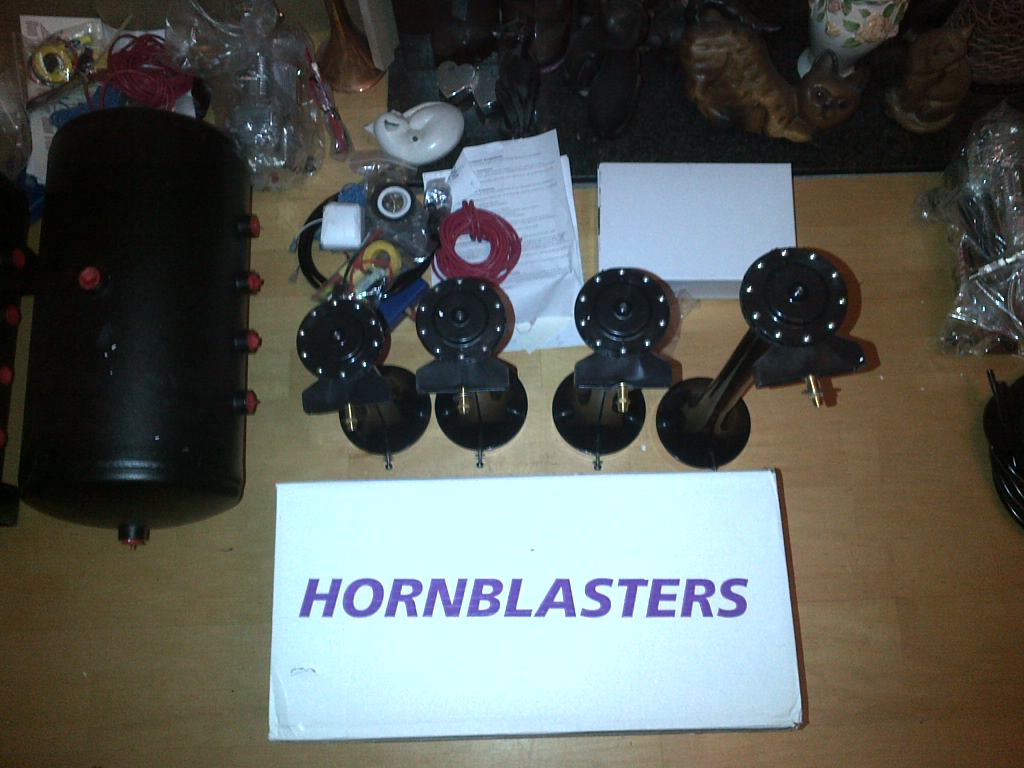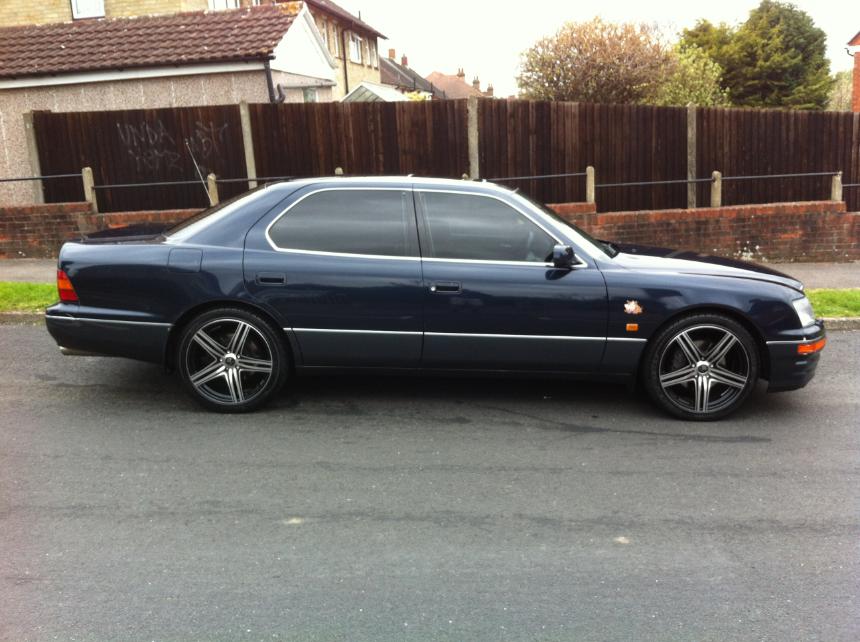 NICK DECIDED TO PLAY HIDE N SEEK BUT NEEDS TO CONSIDER WEARING LESS CONSPICUOUS CLOTHING NEXT TIME!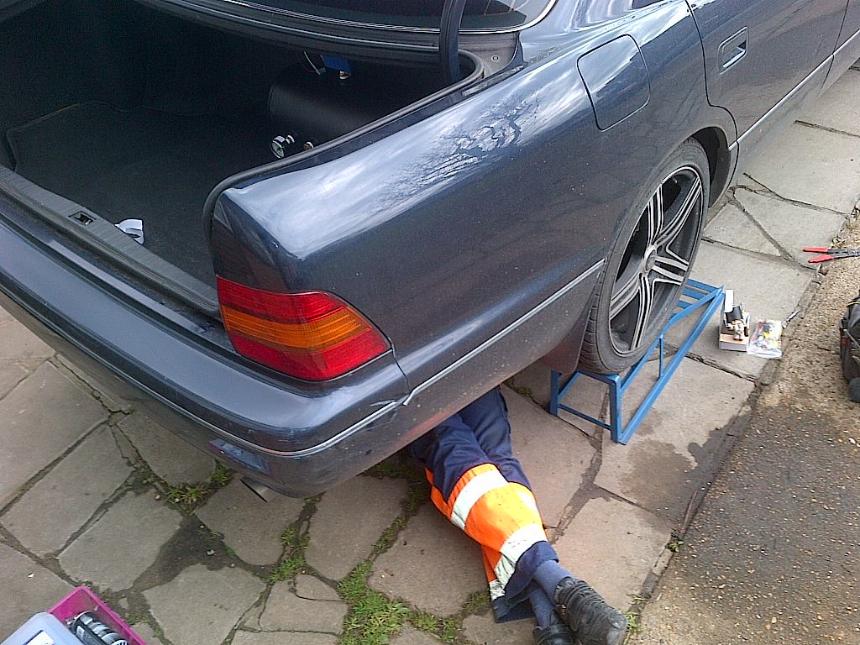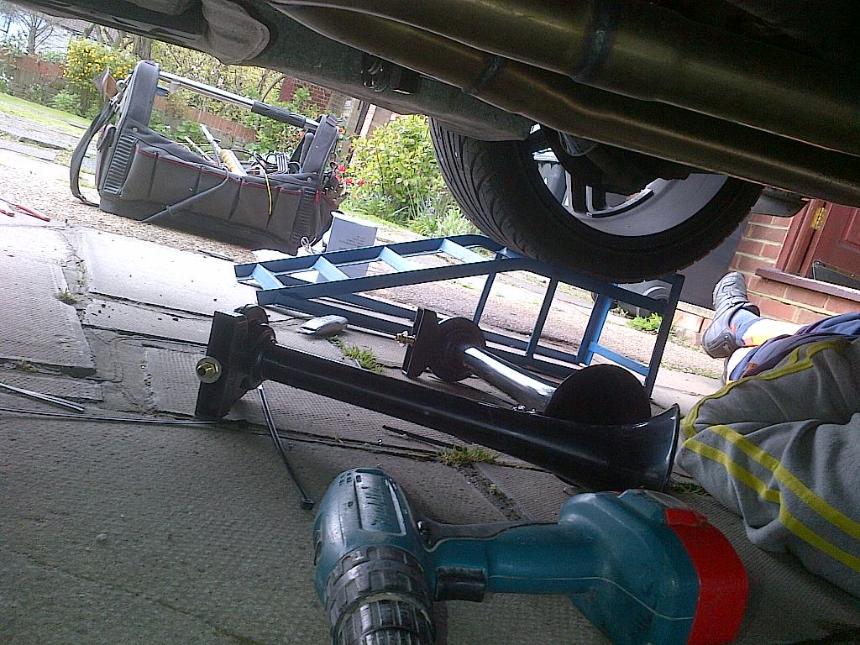 The LS400 had had some surgery previously (silencers removed) & this left two gaping big holes crying out for horns!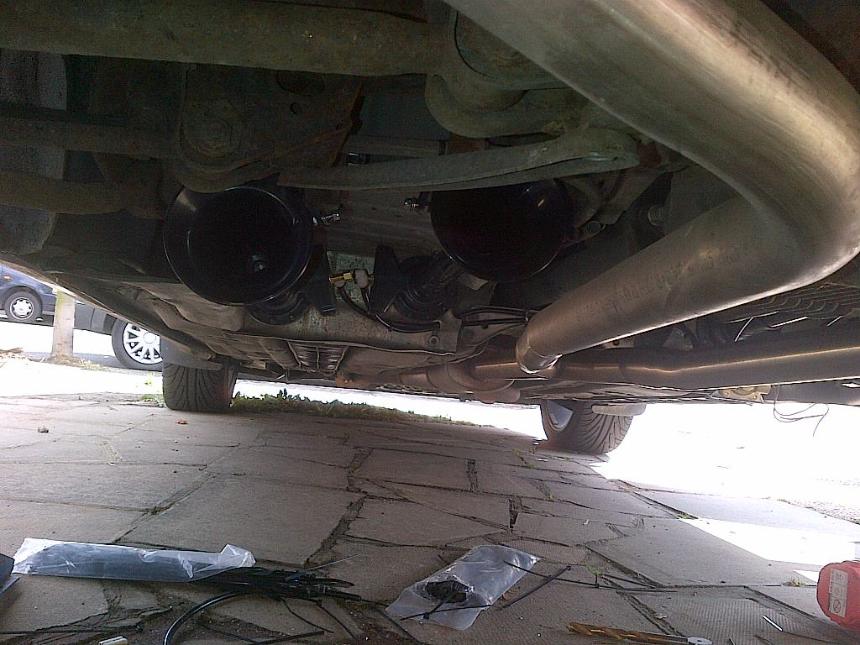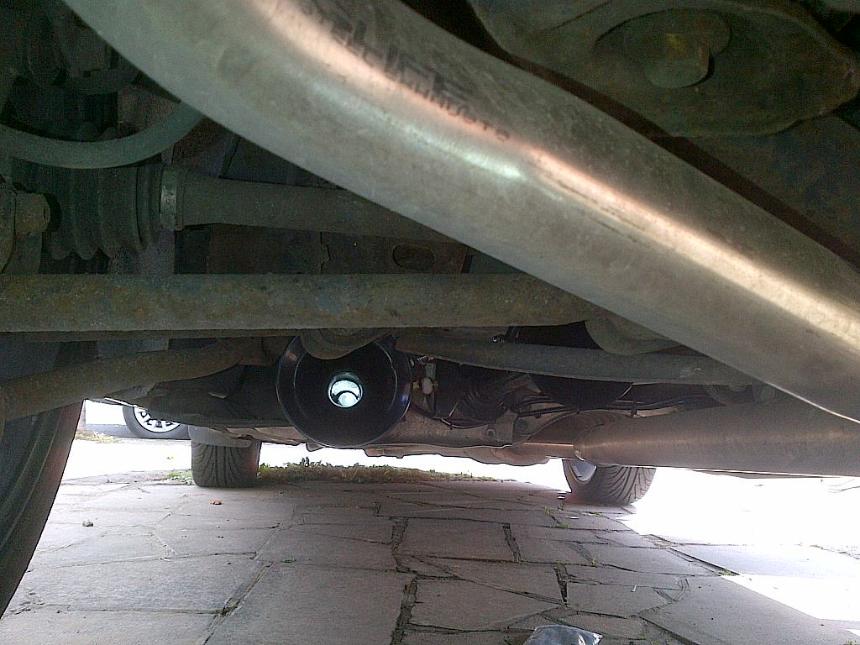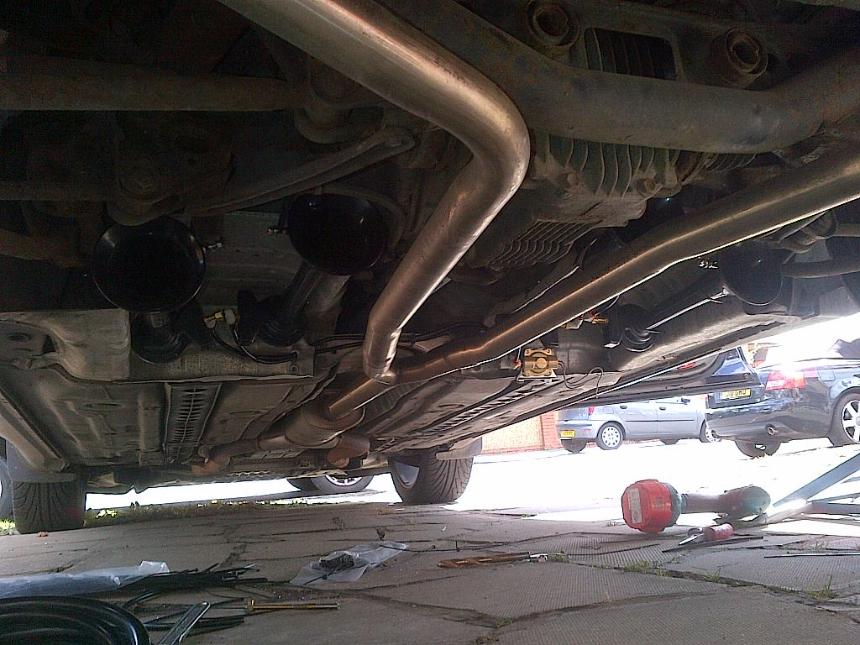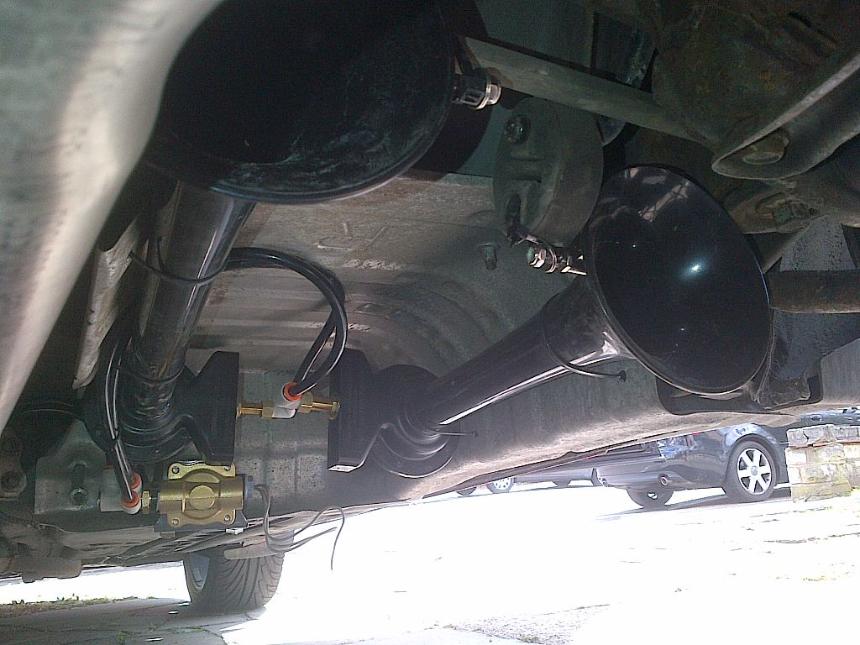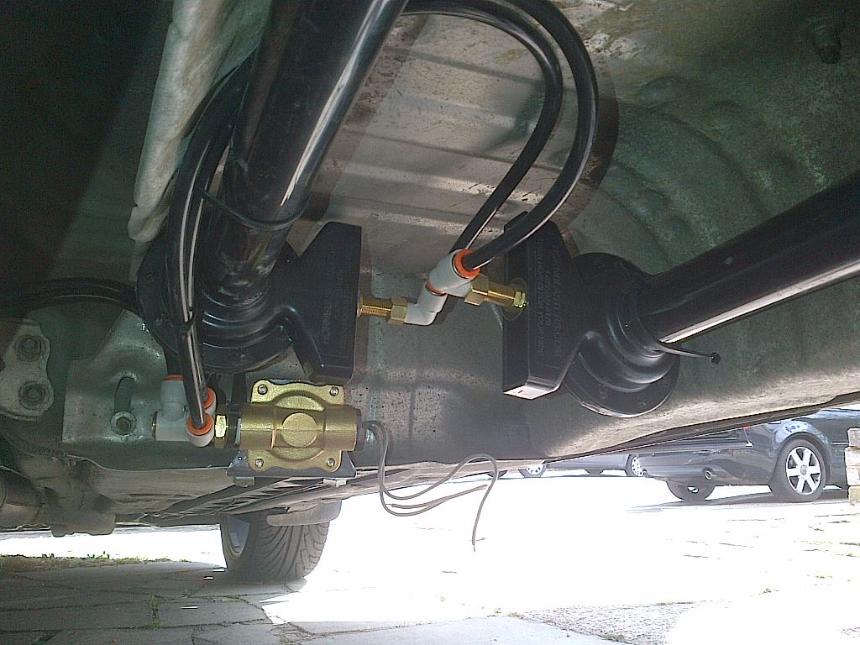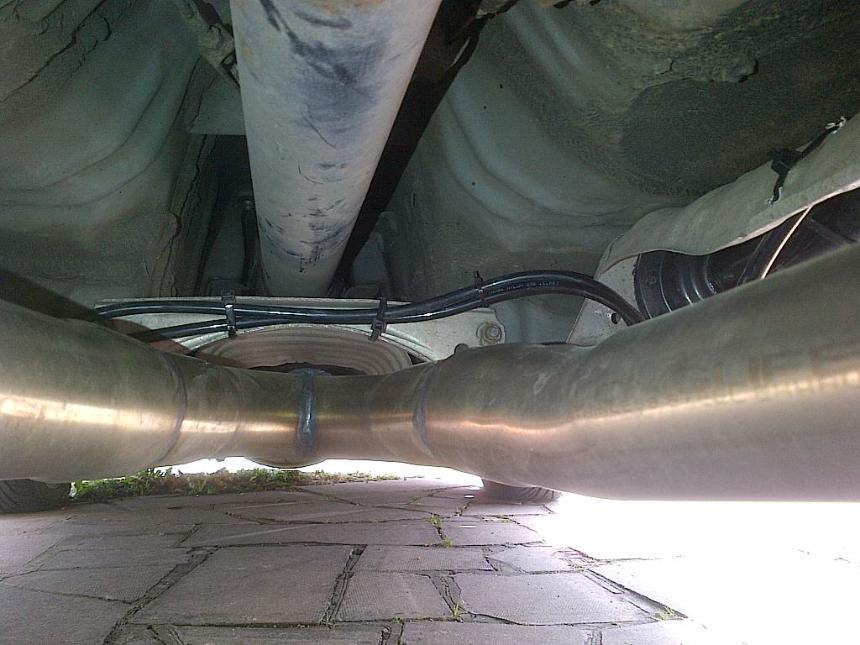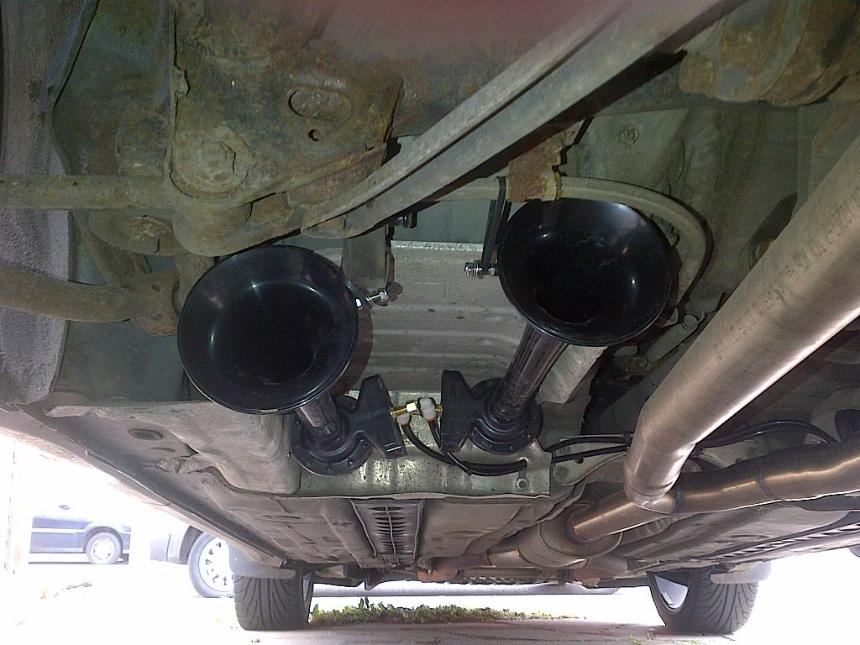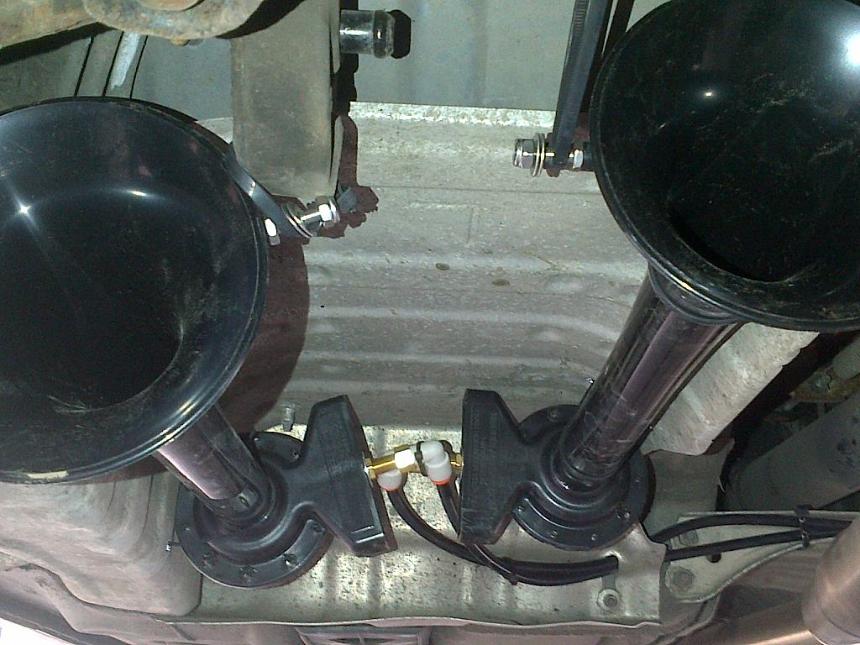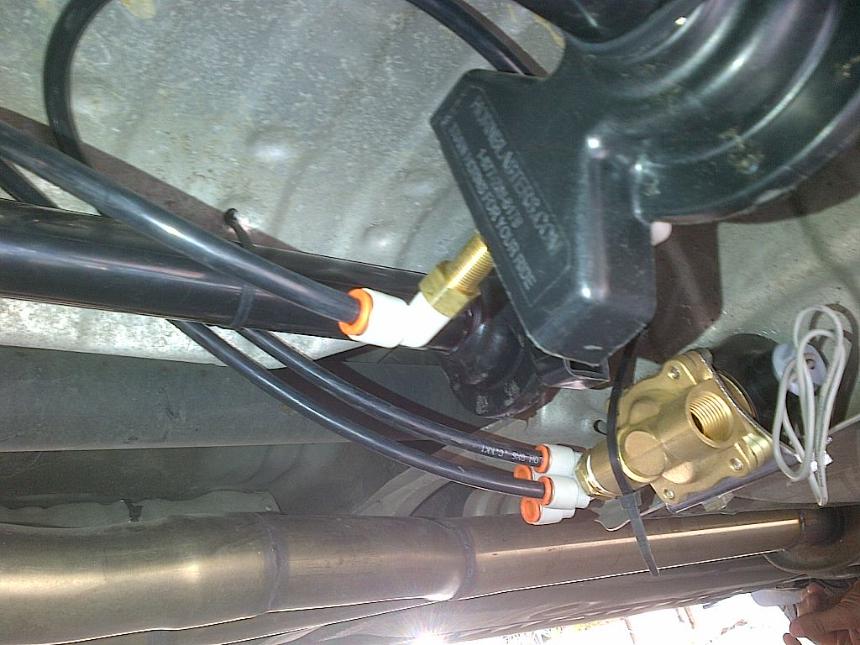 I Started by Building up the tank first thing in the morning whilst we chatted over a cup of tea.
You can see the pressure release valve ontop and also the tyre inflator connection on the right hand side tank port. (very handy!!)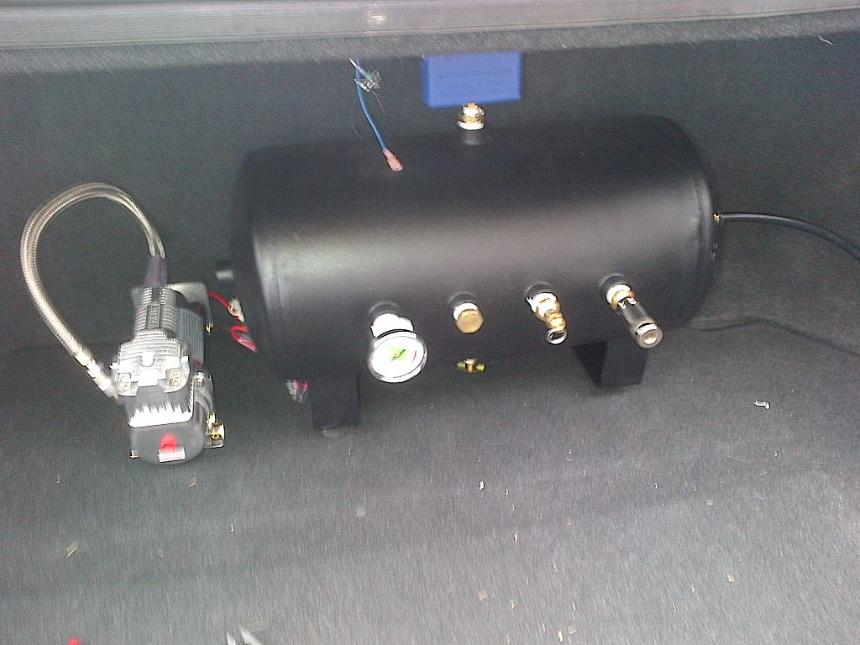 Next job to do was the wiring - this was really simple to do but complicated to put together, running and hiding cables wherever possible and protecting them from the elements and incorperating in a Remote control.
There is a main Kill switch which knocks off the compressors and disables the HONK BUTTON mounted on the dash (Red for danger).
This way your compessors will only recharge your tank when the keys are in the ignition.
Also I had to cater for the REMOTE CONTROL which could be operated with the KILL SWITCH OFF. This also ment that there is no danger of the compressors kicking in during the night and running down the battery.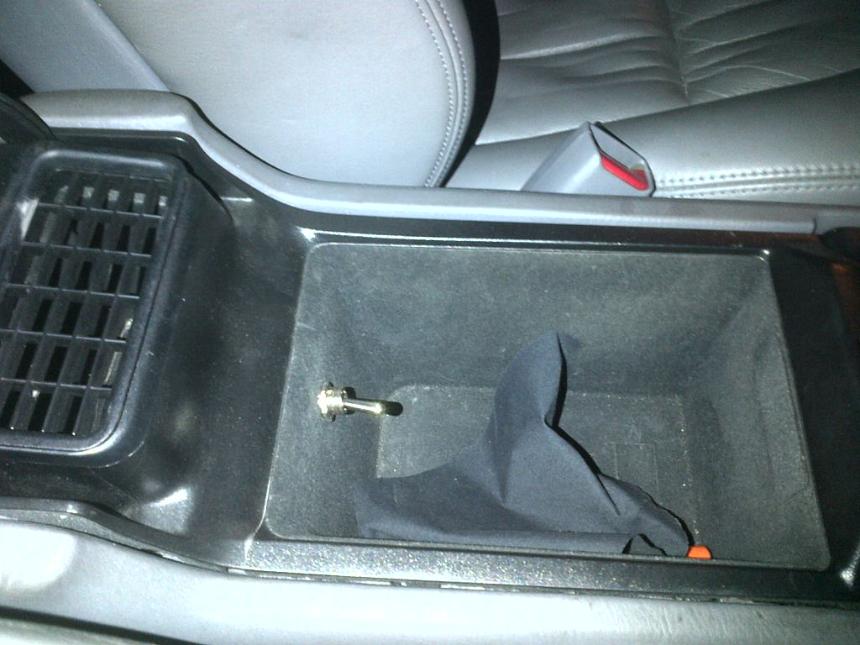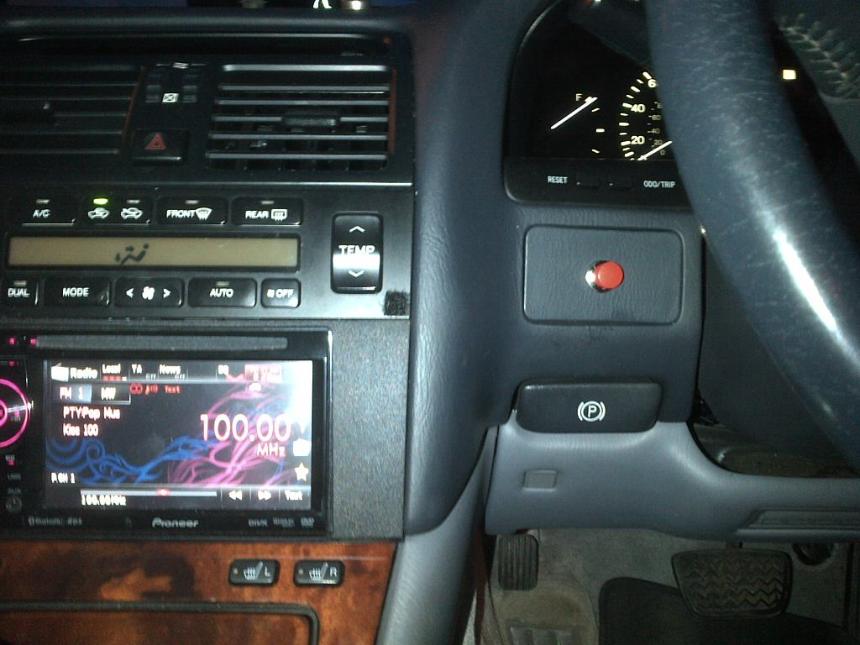 AND FINALLY AT 8PM IN THE EVENING WE GET TO GO OUT AND ROAD TEST THE HORNS (on some local private land)
THE PICTURES ARE NOT ALL THAT GOOD & I HAVE ASKED NICK TO SEND ME SOME DURING DAYLIGHT.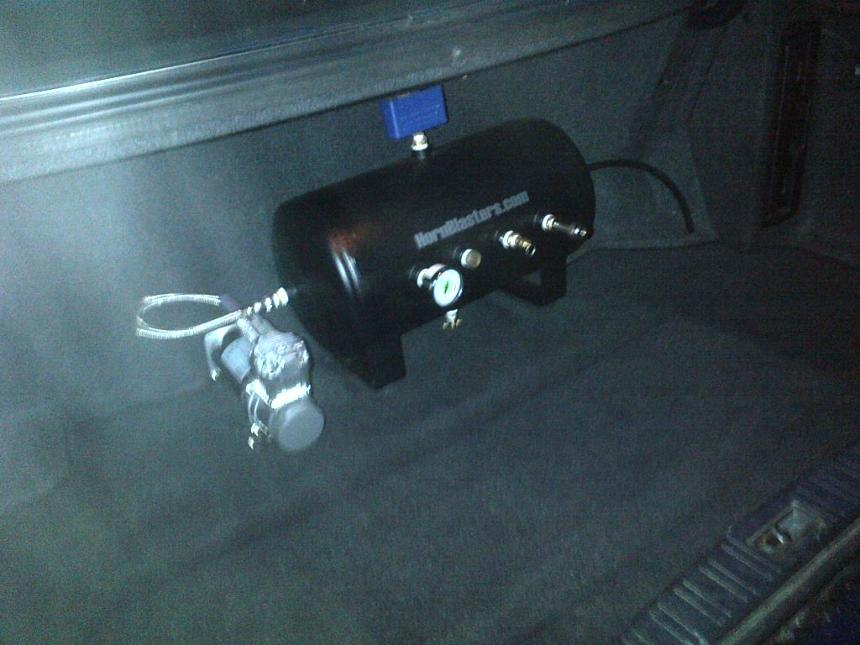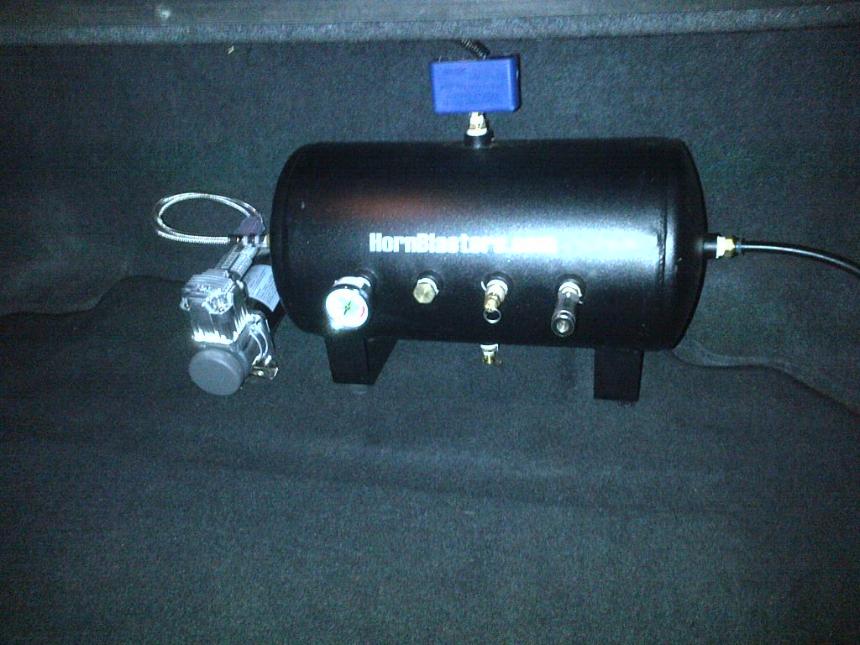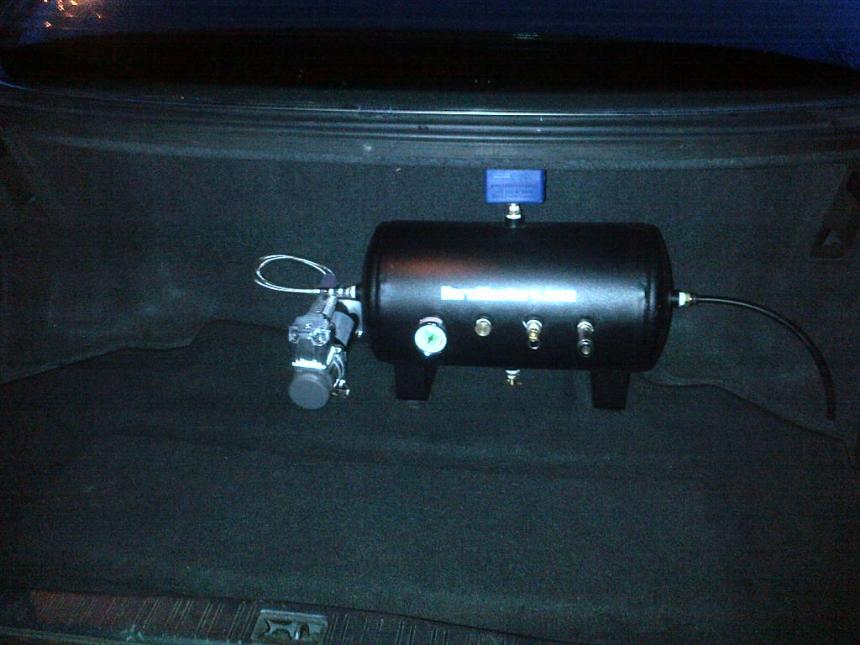 HERES SOME PICS & COUPLE OF SHORT VIDEOS MADE BY NICK THE NUT.